This news article was originally written in Spanish. It has been automatically translated for your convenience. Reasonable efforts have been made to provide an accurate translation, however, no automated translation is perfect nor is it intended to replace a human translator. The original article in Spanish can be viewed at
Citoliva desarrolla un kit para la detección de la verticilosis
Citoliva Develops a kit for the detection of the verticilosis
14 November 2012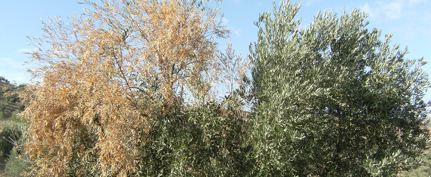 The Technological Centre of the Olivar and of the Oil (Citoliva), in collaboration with the AEI of the sector oleícola Inoleo, works in the design and development of a method of early detection and quantification in the floor and the plant of the fungus Verticillium dahliae, causante of the verticilosis, that allow the precocious routine diagnostic of the illness by means of a kit of diagnostic homogéneo, simple, fast, precise and sensitive for the electrochemical detection in situ of levels of Verticillium dahliae to a very affordable price for the producer.
This tool will alert of the apparition of symptoms or will inform in real time of the moment in that the infection was latent, besides will detect those olivos that can be infected with the fungus causante of the verticilosis although the tree do not show visible symptoms of the illness or in the moment that this last was in the initial phases of development, warning like this the expansion of the illness, since it will provide to the agriculturalist and to the technicians a basic tool for the taking of decisions.
The possibility to have of an exact diagnostic of easy handle will allow the correct evaluation of the causes and the suitable taking of decisions on the control of the illness. Besides, it will determine the type of fungus causante of the illness, descartando other pathogens that can produce similar symptoms to Verticillium dahliae.
Like consequence of this study, the sector oleícola European will benefit directly when limiting the dissemination of the illness and reduce his impact. The production and the profitability will increase, whereas the costs of production related with the use sistémico of the plaguicidas and the production of olivos healthy will reduce . The profits also will extend to the nurseries of olivar since they could issue certificates of quality of material of seed and the absence of the illness to the authorities of supervision.
The investigation freamers inside the European project Vertigeen 'Inexpensive and reliable on-site solution for olive producers to contain verticillium wilt' (www.vertigeen.eu), cofinanciado by the European Union through the 7º Program Marco, in which they participate SMEs, associations of SMEs, technological SMEs and centres of pertinent investigation of Spain, Greece, Portugal, Holland, United Kingdom, Italy and Germany. By his international character, Vertigeen will analyse the technological state of the producers of the main countries of the Mediterranean Basin, to detect the needs and demands of the sector in relation to this illness.