This news article was originally written in Spanish. It has been automatically translated for your convenience. Reasonable efforts have been made to provide an accurate translation, however, no automated translation is perfect nor is it intended to replace a human translator. The original article in Spanish can be viewed at
España es el segundo productor europeo de carne de porcino
Companies such as Quicial are part of a strong auxiliary industry around the product Star: cured ham
Spain is the second largest European producer of pigmeat
Drafting Interempresas
14/12/2010
December 14, 2010
Spain is the second large producer European pigmeat, just behind Germany, and the fourth largest producer of this type of meat (behind China, USA and the own Germany). Pigmeat accounts for 82% of the meat produced in our country in 2009. With a production of nearly three million and a half tonnes in 2008 and 3,24 million tonnes last year, with 1.25 million tons of all types of products, the Spanish pig industry (abattoirs, cutting rooms and factories of elaborate) represents a turnover of more than 10 billion euros, with some exports of more than 2.3 billion euros.
Last year, in which the Spanish and international economy endured the hardness of the economic crisis, only pork production declined to 3,23 million tons. (In 2008, the Spanish production of pigmeat grew moderately with regard to the volume slaughtered in 2007, producing an increase of 1% to 3.5 million tonnes). As for the production of processed meat, Spain, with more than 1.2 million tons per year lies in fourth place in the European Union, after Germany, Italy and France. By products, highlighted the cold cooked meats in volume and in value hams and shoulders cured (white and Iberian). Spain is a country with a strong export industry of meat and pigmeat products. In 2009 exports represent 38% of the pig production of Spain that went to exports of processed meat, offal and other products, which has an impact on the strategic importance for the sector with the development and consolidation of external markets.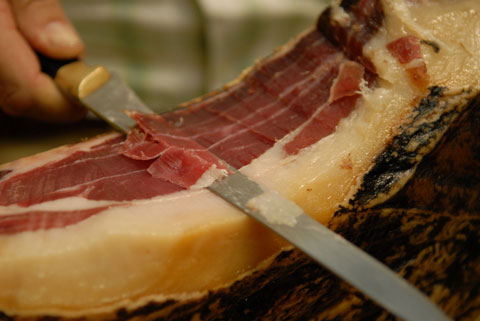 The cured ham is the most valued meat product and the most elaborate, with 245,000 tonnes per year.
In the export are outlined during 2009 new destinations: China, Brazil, Singapore or Viet Nam
The export of meat from pigs in 2009 grew by 4.5% in volume, reaching figures of 864.938 tons, 1,634 million euros for the twelve months of the year. The pig sector exported in addition 231.604 tons of offal and other fresh produce, in addition to more than 96.659 tons of finished products (hams and cured palettes and stews, sausages, cold cuts, etc.).
All these exports accounted for a total value of about 2.3 billion euros. Sales to the countries of the European Union grew significant 6.2% during 2009 (especially in countries such as Italy and France), while in third countries recorded a decline in sales to traditional destinations (Russia, Japan, Korea of the South)(, Hong Kong). (At the same time are emerging new destinations, which will take importance, such as China, Brazil, Singapore, Viet Nam, Serbia, Liberia, Macedonia). For its part, imports remained at the same level of the previous year (- 0.1%), while those from third countries declined by 15.8%, so the balance of trade in pigmeat continued with a result very positive.
Quicial, example of a strong auxiliary industry for the production of cured ham
Environment to the pig sector there is a broad spectrum of companies that provide tools and specific machinery for the treatment of pigmeat. From Interempresas have wanted to see first hand the way in which the economic crisis is affecting the sector, but above all how can help a small company like Quicial so the employer have at each time the solution you need.
Albert Quintana, Manager of Quicial
-Major distributors are dragging down the price of the cured ham, which is affecting many enterprises that are especially engaged in this part of the Iberian market. What should be done to ensure that this does not continue?
We are in a market very competitive, industrial and consumer goods. Large companies specializing in cured ham have prepared and increased their productions to minimize costs and consequently lower selling prices.
Quicial believes that for the price it can compete with better quality, and that is why we are contributing to that companies of small proportions can acquire a line of machines designed to improve the quality of the final product and become more competitive in an increasingly demanding market.
-Quicial is one of the many companies in our country dedicated to sell machinery for sector of the ham. It is a sector with much competition?
The production of cured ham is very varied, complex and with personality. This makes to find a variety of machines and products that makes this a difficult market with much competition in the market. Quicial is different from the competition offering a more exclusive and machines developed according to the needs of each client.
-Ham goes through many processes before arriving at our tables. In these steps, to what does with the optimum machinery a company like Quicial?
Quicial represents the prestigious firm Jarvis Products Coorp., specialised in machines for slaughterhouses in our country. The widest range of saws and cutters to aid in the slaughter of pigs, lambs and calves.
We are specialized in the process of boning, peeled, pressing and packaging of the ham. We manufacture a wide range of manual rind peeling machines, tables for the deboning of ham, presses in Spanish format and 3D format, where we get a lower decline. Also manufacture lines of enmallado and sheathed the entire ham.
-The culture of the ham is an institution in our country, but does your industry has innovated to the extent that has been growing?
The industry of cured ham has been one of the food industries where most are developed and innovated in our country. Be an industry totally artisan and manual, it has become an industry mechanized systems to improve the production and quality of the ham, all to tray to this product, provided that the customer can taste the best ham in every moment.
-In times of crisis in the food sector, the businessman pulled over by a new machine in case of failure, or fix that already has?
In these times of crisis it is important to know the cost of each option, and that is why, but how easy is to repair, it is not always the best decision. Quicial is conducting a study personalized in every case, analyzing needs, and this makes that the best choice in each case should be decided together with the client.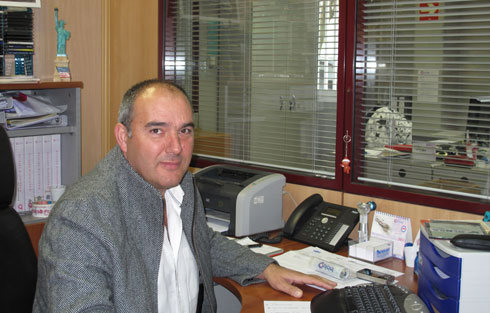 Albert Quintana, Manager of Quicial.
Related Companies or Entities