Iberian ham, gastronomic jewel by his flavour and alimentary profits according to experts in nutrition
30 January 2012
Scientific studies have showed that the fat of the Iberian pig presents high contents in acid oleico. Like this it keeps it the Association Interprofesional of the Iberian Pig (Asici). The oleico, is an acid graso monoinsaturado majority also in the oils of olive and that in the Iberian pig finds in upper values to the levels found in other products cárnicos. This situation optimises when the Iberian pigs feed in freedom, to base of acorns in the dehesas.
Marta García, president of the School of Nutricionistas of Castile-La Mancha, insists in the goodnesses of the Iberian ham, remembering that the acid oleico, in addition to his already recognised properties cardiosaludables, is the only acid graso that allows to increase the "good cholesterol" (HDL) and go down the "bad cholesterol" (LDL).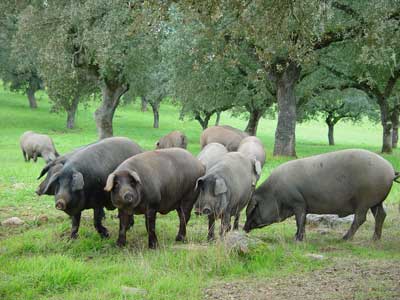 By his part, Anselmo Perea Remujo chair and president of the Association of Veterinary of Pork Iberian (Anvepi), has remembered that the cholesterol is indispensable for the life by his numerous functions. It stands out, for example, that is precursor of hormones and vitamins. Perea incide In that the important is that the fat of pig carries components cardiosaludables, fruit of a suitable feeding and form of crianza.