Fira Of Mollerussa organises a Clúster Agroalimentario like fórum of analysis of the sector
9 February 2012
With the set up of a Clúster Agroalimentario,
Fira of Mollerussa
(Lleida) bet by a new concept of fair where the exchange of knowledge was paramount and provide value added to the sector. Today, day 9 February, takes place the first day of this initiative that pretends to be fórum of opinion and analysis as well as authorised and unanimous voice of the sector with neutral criterion, where besides participate professionals of first level.
The meeting answers to the purpose of the entity leridana Fira of Mollerussa of desestacionalizar the agricultural fair Fira of Sant Josep turning it into a contest with a fórum of permanent debate, as it affirmed the president of Fira of Mollerussa, Marc Solsona, in the presentation of the Clúster Agroalimentario, which supposes also a step forward in the profesionalización of the body ferial.
Today takes place the first day of this clúster with the title of workshop Vegetal Proteins, in the complex The Boscana of Bellvís. The meeting, in which they will participate in the order of 30 people, has the collaboration of CESFAC, AFOEX i INTERAL. Between the companies that have interested to assist are Oils Borges, Actel, Corporació Alimentària of Guissona, Vall Companys, Catalan of Farratges, Cooperative d'Ivars, Viterra or Sitasa, between others.
In the act of presentation, Solsona added that the conclusions of these days will have by object boost the positioning of the sector to level of market during this year 2012. By his part, the director of Fira of Mollerussa, Poldo Segarra, informed that in principle they are foreseen of two to four annual announcements confirming a minimum of two, one to final of year in which it would do balance and another at the beginning of year to do forecasts.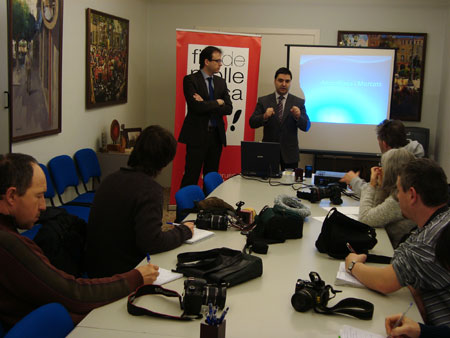 Presentation of the Clúster Agroalimentario, of the hand of Fira of Mollerussa.
Related Companies or Entities