This news article was originally written in Spanish. It has been automatically translated for your convenience. Reasonable efforts have been made to provide an accurate translation, however, no automated translation is perfect nor is it intended to replace a human translator. The original article in Spanish can be viewed at
Laint - Abad Maquinaria Industrial lanza al mercado una nueva línea de grapadoras
Laint - Abad Industrial machinery launches a new line of staplers
November 9, 2009
Abad Industrial machinery
, as a company's long experience in the manufacture and sale of machinery for the meat and food industry, still betting on the future. In a difficult economic time, Laint has released a new line of staplers to complete its already extensive line of tied. Laint products are completely built in stainless steel of the highest quality, meeting international standards more stringent quality and the customer as main objectives.
The company, based in the Barcelona town of Sentmenat, currently has a great range of products, destined mainly to the meat sector: rind peeling machines, cutters, atadoras, embuchadoras, enmalladoras, feeders of gut, and a long etcetera. Laint counts on specialized personnel, and provides nationwide coverage and international both at the level of advice and technical assistance customized to each client.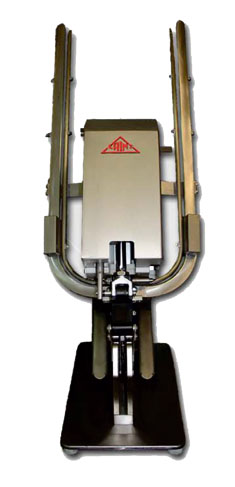 The clipadora 12 DCD to DCD 16 is one of the new lines Laint has launched on the market.
In the system of load/downloads in conventional dock, the driver centres the truck in the dock of load, drop, opens the doors of the box, goes back to go up to the truck and finally joins up the vehicle in the dock of load/downloads to be able to realizar the operation...

[+]

The days 10 and 11 October celebrated the event 'Sliced Meat & Cheese' in Nettetal, Germany, with big success. It was presented the application Multivac Fresh Pack, a type of packaging that has like aim show the freshness of the product, through the image and presentation of the same...

[+]

The president of the Generalitat, Alberto Fabra, and the mayor of Alzira, Elena Bastidas, have chaired today the act of First Stone of the installations that the company of packaging Obeikan MDF will build for the production of containers agroalimentarios...

[+]

Verallia, subsidiary of the group Saint-Gobain referent in the production of containers of glass for beverages and feeding, continues investing in innovation and sustainable development through the modernisation of his factories...

[+]

Editorial Interempresas

In the alimentary sector, that has like main aim the mass market, exists a balance between the versatility, that is to say, the easy handle of the equipment and the precision of the dosages that to these demands them . Torex Has projected this balance through the microdosificador DCC, commercialised by Wam Spain 2004, S.L...

[+]