Maguire: Pavilion 10, stand A 26
Maguire doubles the production flow with the Gravimetric dosing in K 2010
Drafting interempresas
10/09/2010
September 10, 2010
Maguire, represented in Spain by
Alimatic,
will present at the K 2010 an advanced model of the Gravimetric dosing FGM which offers more than double the flow of production of the original system, but has the same compact size. It also offers the same considerable price advantage on competition gravimetric units, according to Maguire Europe.
Used for the injection of colorant and additive in plastics processing machines, the new MGF system is powered by an engine smaller than that of the previous dispenser, but provides material at speeds up to 36 kg per hour compared with the production flow previous maximum of 13.6 kg. Yet the dispenser costs the same as the conventional volumetric fillers and is almost 40% less expensive than the gravity models of competition, said Maguire.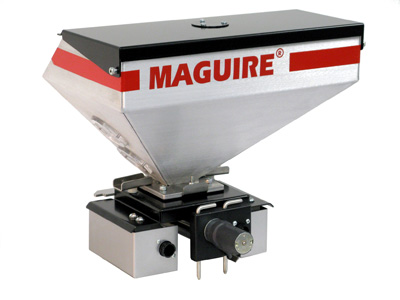 The MGF dispenser.
The MGF dispenser of the new generation can interconnect through software G2 Maguire to industrial network similar to the available mixers Maguire
There is also a new option of networking that a long time many users of the mixers of Maguire scales have been installed successfully. Drivers for the MGF dispensers can already connect networked with Gravimetric Gateway or Maguire G2 software. This program provides detailed reports of consumption of materials, shows alarm from anywhere on the network, gives access to specific computers from remote locations and monitors inventory levels. "This flow of production of the dispenser FGM increases ease of application of this system without therefore stop being compact and affordable," said Paul Edmondson, CEO of Maguire Europe. "At the same time, this advanced system allows more companies to obtain the advantages of the gravity dispensers on the volumetric device that dominate the industry today." "In short, the gravity dispensers are less complicated, more user-friendly and more precise".
The accuracy of the measuring spoon FGM is due to the use of load cells for monitoring weight loss of dye in a hopper (mounted on load cell) as the material is injected to the transformational machine through a dispenser spindle. The software in the control of the dispenser makes a sweep of the consumption of color data every half a second and automatically adjusts the dispensation of the color once it detects a predetermined amount of accumulated error.
Related Companies or Entities