This news article was originally written in Spanish. It has been automatically translated for your convenience. Reasonable efforts have been made to provide an accurate translation, however, no automated translation is perfect nor is it intended to replace a human translator. The original article in Spanish can be viewed at
PlusPack reemplaza todo el PP por Scanfill
PlusPack Promotes the advantages that offers Scanfill to his customers
PlusPack Replaces all the PP by Scanfill
Editorial Interempresas
24/01/2014
The Swedish company Scanfill, subsidiary of the greater manufacturer of thermoplastic compounds of Scandinavia, Polykemi Group, represented by plastic Agents, has attained an important fact. The Danish company PlusPack goes to replace the PP by the Swedish material for containers.
PlusPack Has converted totally the line of products Bistro for the production with Scanfill. In this segment, has abandoned the PP to use the material Scanfill, respectful with the environingingment. The greater satisfaction for the company is that the customers have reacted very positively with this change. The line of products Bistro is used for containers of ready food that they have to heat in microwaves.
"The reason by which are using Scanfill is that it provides us advantages of productivity, in addition to mediambientales. With the use of Scanfill, reduce the consumption of power during the production. So much the footprint of carbon like the freshwater consumption, have reduced considerably" affirmed Anette Christensen, boss of development of business in PlusPack.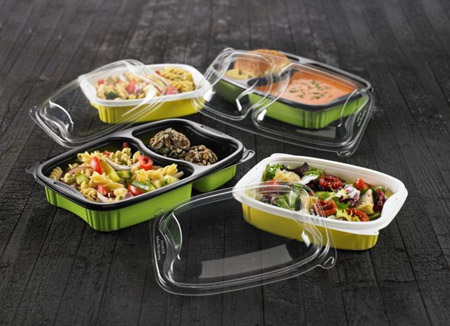 PlusPack Already is contemplating the possibility to change the materials of his line SmartView, at present produced with PP and CPET. According to Anette, the material Scanfill has big advantages, compared with the PP, what allows his use in applications where dominates today the CPET. The highest thermal sensors stability of the Scanfill provides him greater integrity and resistance to high temperatures.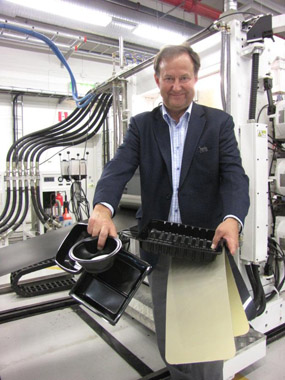 Jan Boberg with two products manufactured with Scanfill.
Besides, from PlusPack affirm that it exists a big interest by part of the customers regarding the Scanfill. Also they have contemplated the possibility to change the bowls for soups, containers for salads and other cool products like appropriate applications to realizar with the material Scanfill.
"Am totally convinced that because of the environingingmental half advantages and of processing of the Scanfill, go to wake up the interest of a lot of manufacturers. PlusPack Has offered interesting solutions for the industry of the container to his customers during more than 50 years. Now, with the material Scanfill, gives us even more interesting possibilities", signalled Anette Christensen.
PlusPack Promotes the advantages that offers Scanfill to his customers. For example, in Norway, the material Scanfill has received a big attention because the producers can save the tax of packaging of 1.15 NOK (Norwegian coin) by kilogram if they use the Scanfill. "We see that the material Scanfill has a big potential offering interesting solutions for the packaging, attracting to big part of the industry of the container", concluded Anette Christensen. "Our cooperation with PlusPack is very excitante. The interest by the Scanfill has grown tremendously and see the future with a lot of optimism", affirmed Jan Boberg, boss of sales and vice-president of Scanfill.
Related Companies or Entities