This news article was originally written in Spanish. It has been automatically translated for your convenience. Reasonable efforts have been made to provide an accurate translation, however, no automated translation is perfect nor is it intended to replace a human translator. The original article in Spanish can be viewed at
Kodak inaugura la primera 'Isla digital Kodak' de Argentina
Kodak Inaugurates the first 'digital Island Kodak' of Argentina
27 December 2011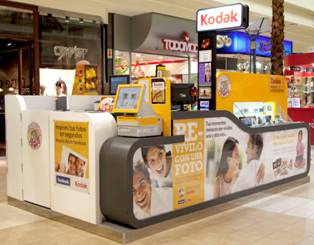 The 'digital Island Kodak' makes possible that the consumer have an easy and agile access to the technology of impression termal (drylab), as well as also to the impression in seconds through the kioscos digital included. The available concept of products in island, already consolidated in other sectors, now arrives to the photography with an innovative design, modulate, of easy adaptation to any environment and of low operative cost.
This new concept that presents Kodak beside Process Tempo in Square West Shopping, in Buenos Aires, offers a space for the exhibition of products 'premium': albums of photos, portarretratos, photo gifts, llaveros, fotomontajes (further of the vitrina exclusive for digital cameras, digital frames, batteries, accessories, scanners, printers and cartridges Kodak). With more than 20 years in the market, Process Tempo works in the area of digitalisation of images realising works of high professional quality.
"The digital Island Kodak offers new possibilities of low operative costs and with services extremely profitable for the photographic trades", ensured Héctor González, country manager & managing director of Kodak.