This news article was originally written in Spanish. It has been automatically translated for your convenience. Reasonable efforts have been made to provide an accurate translation, however, no automated translation is perfect nor is it intended to replace a human translator. The original article in Spanish can be viewed at
Entrevista a Gonzalo Fernández, director comercial de Ibermática
"The 'guaaau' type answers make us think that we have hit the nail"
Interview with Gonzalo Fernandez, commercial director of Ibermática
Joan Sánchez Sabé
13/02/2011
January 26, 2011
SolidWorks World is an event which not only brings together a large number of designers interested in expanding their practical knowledge about the program that is usually run on your computer all day. In addition, here are a number of allies ('partner' in his terminology) that show their complementary products to SolildWorks and distributors ('ressellers', as they say), that take advantage of to get to the day and to discover the new offer. This year the Division of business solutions of Ibermática, company founded in 1973 in San Sebastián, participates in both facets.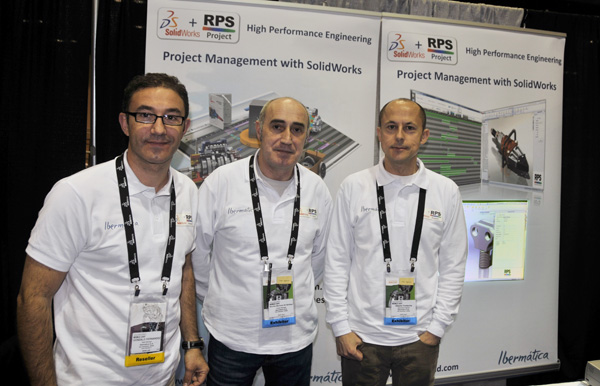 From left to right: Gonzalo Fernández, commercial director; Nicolás Martínez of Ilarduya, product manager, and Alberto Fontecha, engineer's implementation, at the stand of Ibermática SolidWorks World 2011 exhibitors ('partner pavilion') area.
What is the role that has come to play Ibermática in SolidWorks World 2011?
We are here to fulfill two different and at the same time complementary roles. As 'resellers', we have come to know all the innovations, to move them to our market, both our clients and our target market. The second role that we have come to develop is to present our value proposition, a software oriented to the management of projects, RPS Project, which complements and integrates with SolidWorks Enterprise PDM. The internationalization of our solutions, and this is one spearhead, is part of the strategy within Ibermática solutions business, with its three areas: implementation of ERP (centralization of financial information, management and production), solutions MSS ('Manufacturing Solutions Systems')(: where digitalize manufacturing, the production plant) and engineering (introduce SolidWorks, with products for design and validation, manufacture with CAM, and the introduction of PDM and PLM systems).
What has the development of its new product been?
For three years we have been working on our new ERP, known as RPS and released at the end of 2010, with an investment of close to 6 million euros in its development. We have identified important synergies, as the RPS Project project management module, that we have standardized and led to the market.
The year 2010, compared with the 2008, 2007, Championship… (which were extremely positive), has been as it has been, with a reduction in sales for these periods as usual, but at the same time very positive because it has forced us to improve our proposal of value to the market. To search for new market shares have followed two routes mainly: strengthen what we already have (engineering applications) and find and/or develop new products that complement our current offerings. I think that our national, technologically speaking, and in General, market is in a position to compete with the major international markets (Germany, France, Italy, Japan, etc) you to you. Where we see a significant deficiency, and so is transmitted by our customers, is in the optimization of the Organization, in control of costs, time, resources, etc. This carried terms of engineering, there is little practice ("culture") in the integral management of projects. In addition, the need to send, nobody says no to a job, even if the experience is little. That makes more complex monitoring and control. All this has led us to create 'RPS Project', presented here.

Is it necessary to have installed its ERP to use the module of control of projects?
No, it does not. It works independently of the ERP. Integrates with any ERP if he is needed, as that being developed on technology SOA facilitates this integration. But as we discussed, the main virtue is to have a project manager global, comprehensive and easy to use, at the same time with the characteristic of being integrated in SolidWorks and/or EnterprisePDM.
What answer you are given in the international market?
It has been very positive. Our reference so far was domestic, with little culture of planning, but the need has been tight and there is demand. In the international market, where there is a very different culture, the possibility of defining resources, plans, view diagrams of Gantt, etc. has received a very positive response. To work 'with the culture of SolidWorks', with an easy interface to make complicated things, has been very well received, both among the "resellers" distribution channel and end customers.

Above all, we are receiving many consultations of German dealers who want to offer answers to its clients in planning. Among Europeans, are also French and Italian. And answers type 'Wow', make us think that we have hit the nail. We have also had consultations in Canada, Japan, USA and China.
If the international market is the importance that you want to what network of support you have planned?
Came first, because for the moment there are no alternative solution. This gives us an advantage situation, on one hand, and the cost of 'evangelism' and penetration in the market, on the other. The potential of 'on line' technology allows us to offer remote assistance in different areas: from the training and marketing support of the solution. Marketing model is designed to make it through 'partners', via distribution channel as the rest of solutions that are integrated within SolidWorks.
As distributors of SolidWorks, do conflict to other distributors to sell your product?
No. It is a model of collaboration. In Spain, where we share the activity with other distributors, the model is becoming more collaborative, join forces, bringing our experiences and linking them to his own. The market requires us to specialize, we have gone from selling standard solutions adapted to a market requesting specific solutions to specific problems. It is difficult to be experts in everything. At this point, the smart is the model of collaboration.

Commercialization of RPSProject model, and the objective is to expand internationally where we rely on the expert channel of SolidWorks integrators around the world.
As for SolidWorks World 2011, how you comparáis this issue with the above?
Except for Spain and Portugal, and some Latin American country, here it looks that there are no crisis right?. SolidWorks results have been very good. Almost all countries have overcome high note the set objectives. In the event itself, I believe that we are on the brink of a revolution in the world of CAD. New feature for 2012 are an evolution, as always very positive system, but the best is yet to come. And it is clear that Dassault is preparing a revolution in this area…
SolidWorks has today presented the 'live building' program, aimed at the market of building and its surroundings. Do you think enter a different from the industrial area?
I wish I had arrived five years ago! I liked very much the philosophy of the product. It will require a period of maturation until the placing on the market, but the philosophy of live building is really very good and I think that it will be a solution that will give much to talk about in the sector. It will be a great opportunity for us.
The fact that the programme is 'solidworks live building' and not 'Dassault Systèmes Live Building', as it seemed that it would be called originally, is going to help?
As you know Dassault is currently relocating each solution in the place where deserves it better. The Dassault group has amazing tools, and is taking the best of each one of them. SolidWorks would stress that it is collecting what understands that it has made it the market leader in: a very powerful but simple product at the same time and with the aim of guiding him to the great mass, as well as a model of distribution of the technology model: with 'resellers' proactive and very professional.
What you expect from the 2011?
The crisis situation has helped us, as to not say "forced" to promote what will be new lines of activity, to reposicionarnos and orient ourselves more strongly to the market. We are convinced that this year is going to be very positive for us. We have done and continue doing the duties to do so.