This news article was originally written in Spanish. It has been automatically translated for your convenience. Reasonable efforts have been made to provide an accurate translation, however, no automated translation is perfect nor is it intended to replace a human translator. The original article in Spanish can be viewed at
Mejorar el control de cargas y ubicación en el almacén
Class 10 is a solution thought for the companies that want to improve the processes of location and management of active heavy
Improve the control of loads and location in the warehouse
Editorial Interempresas
18/05/2012
18 May 2012
Each day more the global visualisation of the warehouse incide in the productivity of a company. Conscious of this, and more particularly of the needs that have those where handle active of big tonelaje like coils or containers, Class 10 has developed Heaves. It treats of a system of location and control of applicable loads to any company that use bridges crane or another system of positioning cartesiano and that works by means of technology laser
The system Heaves can apply to any company that use bridges crane or another system of positioning cartesiano.
Heaves allows to have a global visibility of the warehouse and know in real time the situation of all the products, from his entrance in the zones of expedition until his exit. This supposes an improvement in the processes like the control of quality and the embalado, achieving some better results.
The loss of coils or the slow location of articles of big tonelaje increases the times of answer and the final costs, with this solution is possible to locate them automatically achieving a saving of costs.
The aim is to reduce the time devoted to the location of coils in a warehouse. Automating this task attains the control of the business, with profits eat:
Better the trazabilidad, follow-up of the products from the his entrance to factory: coils identified and situated in real time, decrease of incidences in inventories, etc.
Reduction of the times of process: lower time of load, rapidity in the location of the active, rapidity in the realisation of inventories…
Disposal of an inventory to real time of the existences in the warehouse thanks to an automatic control of the storage by part of logistics.
Energetic saving: reduction of the unnecessary travel of the bridges crane.
Labour prevention: it is not necessary that a worker indicate to the pontonero where finds a product or where situate it in some surroundings of maximum dangerousness as it is a big warehouse.
Optimisation of tasks of low value added: elimination of manual works of location, and of leaves of tasks.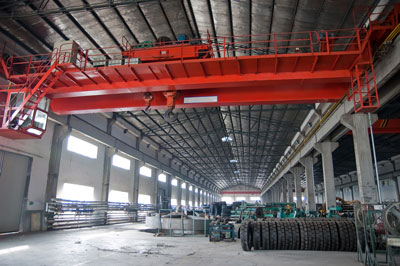 This solution allows to explain inventory to real time of the existences in the warehouse.
Question of profitability
Heaves is a solution based in the combination of two types of technologies, hardware and software. By a side, devices laser that inform with big precision of the location of the products and, by another, terminal computer —the model CV60 of Intermec for the cabin of the bridge crane and the model CN30, also of Intermec, for the operario of earth)— that they are the attendants to receive and execute the orders of the warehouse. The solution includes optionally the technology RFID for a greater control of the process.
Class10 commissions to realise a previous study with which implant the solution of the most efficient way, so that it achieve to provide him all the information concerning the coils and with which will achieve to automate his systems, know which products there is in each zone and facilitate the orders to the operario.
Like this, with the solution Heaves can minimise drastically the times employed in the location and location of the coils, improving the productivity of the business and offering a service of greater quality.
Related Companies or Entities
Intermec Technologies, S.L. (Honeywell)