This news article was originally written in Spanish. It has been automatically translated for your convenience. Reasonable efforts have been made to provide an accurate translation, however, no automated translation is perfect nor is it intended to replace a human translator. The original article in Spanish can be viewed at
ErgoMaq: verificar online los requisitos ergonómicos de máquinas y equipos
Union of Mutual presented his computer application in Barcelona in a day organised by the Generalitat
ErgoMaq: Verify on-line the ergonomic requirements of machines and equipment
Editorial Interempresas
22/03/2012
22 March 2012
Union of Mutual presented in Barcelona the new application ErgoMaq, during the day organised by the Department of Company and Occupation of the Generalitat on 'The Ergonomic risks: current situation in Catalonia and practical experiences for his boarding'. ErgoMaq Is an initiative of Union of Mutual and forms part of the constant work that does the mutual in R&D for reducing the labour risks and improve the health of the workers and the competitiveness of the companies.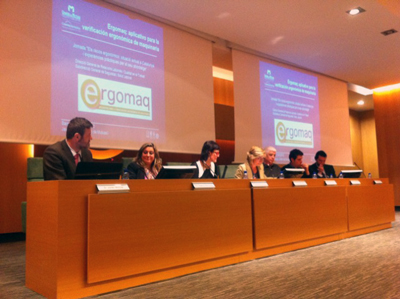 Moment of the day 'The Ergonomic risks: current situation to Catalonia and practical experiences for his boarding'.
The aplicativo on-line ErgoMaq allows the management of the prevention of the ergonomic risks of the users of machines of the sectors of the metal and the wood and the piece of furniture. It is a computer tool, in digital support, that allows the ergonomic verification of the machines and the protection in front of the ergonomic risks of the workers that manipulate them.
During the day, the Manager of R&D of Union of Mutual, Javier Murcia, exposed the operation of the application. It stood out that with this tool the mutual pretends to give a better service to the companies, helping them to do more agile and simple the management of the prevention of accidents of work. In this sense affirmed that "the tool designed by the mutual allows to any employer review on-line the machines that has in his workshop. Only it has to have a connection to Internet."
With ErgoMaq, the companies can diagnose his equipment and select the requirements of design and hygiene of the machines that have to verify, can generate reports of results so much by team as by group of equipment, as well as schedule the preventive measures for the improvement of the places of work, everything in the digital network. The verification realises by means of a questionnaire that values a total of 66 appearances of different ergonomic appearances, that contemplate, amongst other, the design considering the corporal dimensions, the mechanical behaviour of the human body, the devices of information and controls or the interaction with the physical environingingment of work.
The aplicativo is accessible from the web of the mutual from where can find all the information on the European rule on hygiene and ergonomic design of the machines.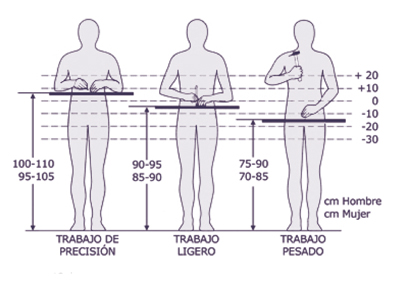 Height of work recommended (Source: IBV).
In Spain, one of each three labour drops is due to ergonomic problems, consequence of the bad postures, repetitive movements or sobreesfuerzos physical. Besides, 28% of the stray working times are due to this type of contingency associated to ergonomic problems in the labour surroundings. In fact it is the cause of accident with drop more frequent and the cause of social and economic cost more important.