Andaltec Participates in Finland in a European project on intelligent containers of plastic
7 June 2012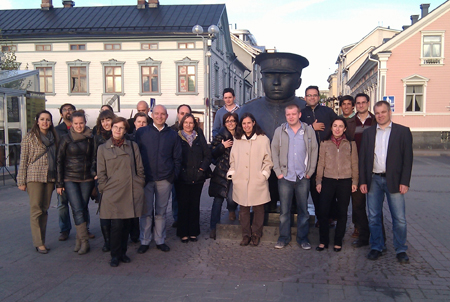 Team of Andaltec displaced to Finland.
Researchers of the Technological Centre of the plastic (Andaltec) have displaced until Finland to work in the European project of R&D Susfoflex, that has like aim the development of new sustainable and intelligent containers that will be able to delay the date of caducity of the foods. This initiative is led by the Finnish University of Oulu and has the participation of fourteen organisations of eight nationalities inside the VII Program Marco, the main program of financials of R&D in Europe. Precisely, the meeting of launching of this international project took place in the headquarters of Andaltec in Martos (Jaén) the past month of February.
This second meeting of the project Susfoflex has served to evaluate the development of the first phases of the project, as well as to define the sensor, the systems of protection, material and additives to use. Also it has tackled the realisation of a complete analysis of market for these innovative containers for foods, since the aim is that they can be in the European homes in the term of some years.
The project Susfoflex centres in the investigation on new intelligent containers using new technicians of impressesion and of nanomaterials. "It treats to contribute to the market an innovative and attractor trucks technology that provide to the collaborators that form part of the new consortium products with big possibilities of commercialisation", explains the manager of Andaltec, José María Navarro. Of this form, will develop new containers of plastic for sustainable and intelligent foods that, in addition to protecting the food, will contain a product that allows to lengthen the date of caducity, at the same time that it protects it of microbes and bacteria. These containers also will carry sensors that, through a code of colours, will indicate if the food is in perfect conditions or if it has begun to spoil . "It treats of a much more effective mechanism and reliable that the traditional date of caducity impresa in the container to know if a food finds really in good conditions to be consumed", indicates Navarro. On the other hand, this new concept of container also will be able to connect with the stock of the shop and know if it remains more product or if it is about to to exhaust.
Related Companies or Entities