This news article was originally written in Spanish. It has been automatically translated for your convenience. Reasonable efforts have been made to provide an accurate translation, however, no automated translation is perfect nor is it intended to replace a human translator. The original article in Spanish can be viewed at
Engel facilita la producción de tapas de portátil más finas
Engel facilitates the production of fine laptop more covers
on February 17, 2011
With the slogan 'think thin' ('think fine'), Engel, represented by
helmut roegele
, it has organized a symposium in Shanghai to be the next 8 and 9 March held in which experts in the manufacture of machines for injection and automation will demonstratetogether with its partners, how you can get slimming the thickness of the covers of notebooks and reduce your weight.
"In the future, the injectors are capable of producing tapas laptop with a thickness of wall close to a millimeter," noted Heinz Rasinger, responsible of the Engel Teletronics business unit. One important fact bearing in mind that the normal thickness of the wall is located between 1.7 and 2.3 mm.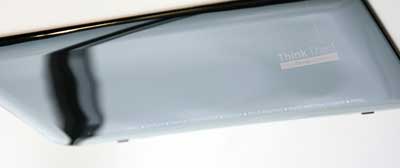 Lid of a laptop upside down with the logo 'thinkthin'.
Weight and thickness of the laptop are charging a greater importance in the market for what now the challenge for the decorated plastic packaging is to reduce both factors. In addition, l to extreme thinness of the laptop lids are particularly relevant in some models that need to be manufactured with a resistant to UV rays label including an anti scratch coating using a technique that reduces to the maximum torque.
During the event in Shanghai, Engel will show live the functioning of the new technology developed by the Austrian company in collaboration with other companies. To do this will use a fuel transfer Engel duo with a clamping force of 500 tons. The machine is equipped with a compression and labelling in mold package. The tag is inserted, is deposited and the finished parts will be collected with a robot model Engel viper 40. The mold will be supplied by Inmold Technology of Suzhou. Other partners in the development of this project are Bayer MaterialScience, Pröll, Böhler drop forging shop and Mold-Masters.
Related Companies or Entities