This news article was originally written in Spanish. It has been automatically translated for your convenience. Reasonable efforts have been made to provide an accurate translation, however, no automated translation is perfect nor is it intended to replace a human translator. The original article in Spanish can be viewed at
EcoAlf: complementos 100% reciclados
Fun & Basics back flight in and out of the contest of creditors with the mind set on consolidating its line of 100% recyclable products
EcoAlf: 100% recycled accessories
Drafting Interempresas
07/01/2010
January 7, 2010
Fun & Basics was born in 1994 from the idea of offering plug-ins and accessories light and functional, adapted to the needs of its customers. Today it has become a brand of reference for the audience you are looking for a product of current and functional design with innovative materials. Perhaps this enterprising effort cost him that at the beginning of 2009 I had to present a contest of creditors, which finally, and after a year, it has been reinforced. Now the brand, with 68 points of sale spread throughout Spain, expected to return to profits in 2010.
Since late 2007 Fun & Basics is carrying out its first commitment to the environment project, and has developed EcoAlf, an exclusive fabric 100% recycled and 100% recyclable with an aspect, quality, flexibility and resistance equal to high-quality technical fabrics. After several months of research and involving five different factories, Fun & Basics, he created a fabric with support, obtained from the recycling of plastic PET bottles.
Managed the tissue, the challenge of Fun & Basics goes into a second phase, where creativity and environmental commitment to join forces so that the design team can take a step forward and develop the first Fun & Basics 100% recyclable products.
Fun & Basics has been involved to the maximum in its commitment to r & d with this project, and wanted to give to the new models - backpacks, bandoleras, shoes - an added value, by which all of its components have been carefully selected so that they could be recyclablePVC-free and get a 100% recyclable, with a 100% recycled fabric collection.
Fun & Basics has involved to the maximum in its commitment to r & d with this project
Technical characteristics of EcoAlf
EcoAlf is a fabric designed and developed by Fun & Basics, which has more technical aspect, quality, resistance and flexibility equal to not recycled fabrics and high quality. He is a trademark of Fun & Basics for a fabric developed from the recycled plastic PET bottles and support ecological TPE (Thermoplastic Elastomer polyester non-toxic), that makes a fabric 100% recycled and 100% recyclable. The company was proposed from the outset, get a green fabric to be able to manufacture its products, without sacrificing the quality and design of its other collections.
EcoAlf presents unique characteristics that her equate to not recycled materials and so far not obtained in a recycled fabric
The invention of EcoAlf is the result of the Union of a fabric with warp and fabric special and exclusive, formed by two yarns of polyester 100% recycled bottles from PET plastic and TPE support free of PVCtogether with the fabric due to an ecological adhesive. This combination makes the fabric in 100% recycled and recyclable. But also EcoAlf presents unique characteristics that her equate to not recycled materials and so far not obtained in a recycled fabric: high flexibility - which allows its easy manipulation to get more elaborate designs; - not deformable; high resistance to stress, wear and extreme temperatures; waterproof; soft to the touch; light (a weight per square metre of 135 grams); free of PVC; a non-toxic fabric that can be used freely in any application that comes into contact with human skin.
The contribution of Fun & Basics to the care of the environment with this new fabric EcoAlf has his translation in numbers, i.e., is recycled by each metre of fabric, with a useful width of 147 centimeters, a total of 70 75 centilitres PET plastic bottleshelping to reduce the use of new resources and extending the useful life of existing ones.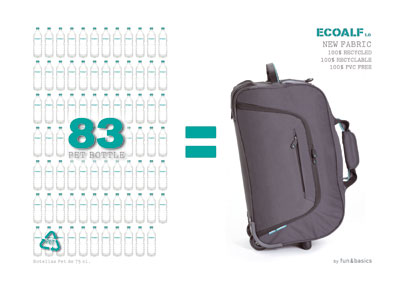 Equivalence in bottles with a double bag.
Production process
EcoAlf has been developed exclusively for Fun & Basics, through a joint-venture with a textile company in Taiwan the first textile category possessing 'Green Mark' granted in the country. Fun & Basics has developed its ecological fabric EcoAlf involving five different factories working exclusively with the company for this project. The process is carried out according to the following phases:
1 Collection centre: at this stage all the bottles go through the process of cleaning, sorting and compression. The Center is a great store of plastics, where there are bottles of all kinds and colors, each of them through a large machine for the separation and classification. Then they were being subjected to a process of elimination of waste are not PET plastic. The compression process, forming perfect cubes of crushed bottles that are transported to the next stage then carried out.
2 Triturado: The bottles in this factory through a shredder, which turns them into flakes of hard plastic, that are stored in a large container. This container washed the bits of plastic at high temperatures, to achieve the total elimination of impurities, remains of tags, etc., to finally go through a process of drying and packaging. Plastic chips are prepared to become textile fiber.
3 Fiber textile/spinning: in a new factory, scales, through a process of smelting and crystallization, are converted into fiber.
4. Preparation of the tissue: fibres of thread, after treatment of hairstyle and spinning, they become huge balls of yarn (warp), ready to be woven. In this phase the thickness is defined, this plot, finish, and other technical features of tissue necessary to cover the requirements of the use that is going to give to it. It is at this point where it starts to eloborar EcoAlf with the technical characteristics required for Fun & Basics. This whole process is mechanized and is performed on mechanical looms. The tissue once, is subjected to a final process of quality control which is performed manually, by reviewing every millimetre of tissue to remove any imperfection.
5 Dyeing: Tissue reaches this process in rolls of approximately 1,000 meters. The tinted is made in a factory that could be described as a huge laundry, where to get a uniform dyeing is necessary to enter the exact number of 5,000 metres on drums. Below is the drying and ironing fabric through a few huge machines of more than 20 metres in height. Color tests are carried out in a kind of laboratory, where the colors blend until you reach the desired. In this factory all the water used is recycled and builds up in wells where it is purified to be reused in the process. The fabric, with the special features required by Fun & Basics, aspect, fabric, thickness and color, is packaged and plasticised in rolls of 1000 meters, for transport to the latest factory and process.
6 Support: The company responsible for this last and final phase, is a small company dedicated to the production of plastics for support of tissues to replace PVC, and offering the same resistance and elasticity without harming the environment. This company has developed support for the EcoAlf fabric, from the TPE plastic, a highly resistant elastomer and unlike PVC it is easily recyclable and do not pollute to be cremated. This support applied to recycled fabric makes it a highly resistant fabric, waterproof and flexible but not deformable. The placement of the support process is done through a large machine, where the tissue has fully tension so that not the slightest brand and the support is distributed evenly. Support binds to tissue, thanks to a biodegradable glue which stretches uniformly across the surface, in a slow but steady process. Finally the fabric together with the glue through a roller at very low temperature, where the tissue is cooled and support hardens to give the finished end.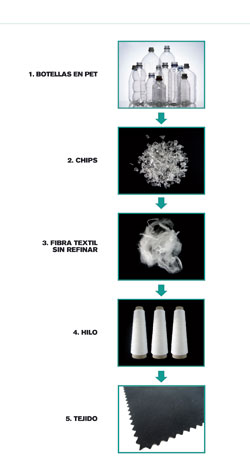 Process of production from the bottle to the canvas.
Fun & Basics products with tissue EcoAlf
Fun & Basics has been involved to the maximum in its environmental commitment to this project, and wanted to give their new models added value, so that all its components have been carefully selected so that they could be recycled, and thus have achieved 100% recyclable parts.
These early models - cabin trolley, sack travel, toilet bag, backpack, shoulder bag and slippers - are made with 100% recyclable, PVC-free materials and fabric EcoAlf.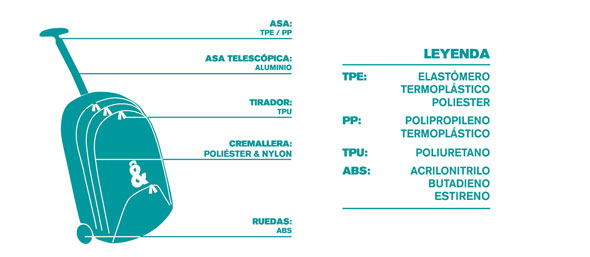 Materials used for the manufacture of different models.
What Fun & Basics
For Fun & Basics a product must have a philosophy, a cocept behind, and with this in mind the company has created a current, innovative and practical style present in all its product lines.
With these premises, Fun & Basics that has always been sensitive to changes in the market, trends and concerns of society, is located in a time of strengthening of the mark in three pillars: functional and intelligent purchaseinnovation and new trends of ecological purchase.
For this the company has set aims to develop creative solutions to today's challenges, looking for a way to design, quality and respect towards people and the environment are close and accessible, without losing a dynamic, fun essencepractical and modern, without falling into the eccentricity and the claim.
The company aims to become world leader in the design, manufacture, marketing of bags, travel goods, accessories and accessories to people who wish to live a sustainable lifestyle, without giving up the fun, fashion and function.