This news article was originally written in Spanish. It has been automatically translated for your convenience. Reasonable efforts have been made to provide an accurate translation, however, no automated translation is perfect nor is it intended to replace a human translator. The original article in Spanish can be viewed at
Instaladores e Ingenieros Técnicos Industriales firman un acuerdo de colaboración
Installers and Industrial Technical Engineers sign an agreement of collaboration
1 March 2012
The president of the National Confederation of Associations of Companies of Plumbery, gas, Heating, Air conditioning, Maintenance and Affine (
Conaif
), Esteban White, and the one of the General Council of the Industrial Technical Engineering (
Cogiti
), José Antonio Galdón, have signed an Agreement-Frame that collects the mutual interest of collaboration between both institutions.
As it establishes said agreement, Conaif and Cogiti engage to work joined for the defence, representation and management of the professional interests of the sectors to which represent, in front of the public entities, private and the state Administrations, autonomic and local.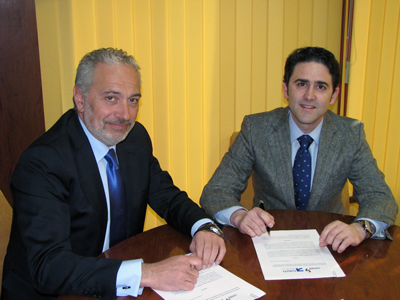 As first activity to develop inside the frame of the agreement, both institutions engage to boost the communication between them establishing bonds of collaboration and coordination. The president of Conaif, Esteban White, stood out the importance of this collaboration between Installers and Industrial Technical Engineers represented by Conaif and Cogiti, and distinguished, likewise, that "the Agreement-Marco opens lines of work and collaboration that later will be able to concretise in specific agreements". By his part, the president of the Cogiti, José Antonio Galdón, signalled that "the signature of this agreement will make possible a fruitful relation between engineers and installers, that redundará of direct form in the society".
In the act of the signature of the agreement, that has taken place in the headquarters of Conaif, also have been present the general director of the confederation, Ana María García gascó and the secretary of the Cogiti, Avelino García.