Leuter develops a new solution for the industrial sector, pharmacy and hospital
July 4, 2011
Leuter, Spanish multinational company specialized in technological solutions applied to logistics, has developed a new tool for management in real time of replacement, Replenishment Tag orders. This new solution, which will replace the Kanban systems, is particularly indicated for the management of orders for replenishment of products in sub-almacenes of assembly plants and to plant and operating sectors room hospital and pharmaceutical stores.
Its operation is based on the use as a support of Kanban cards which are attached RFID tags that include the data of the reference location or the units, and they are assigned to each type of material to be consumed. When the reference is depleted the tag is read by a reader that sends a message of replenishment to the regulatory storage managed by adaia.
This system ensures effective management of the stock in real time in a more effective way, eliminating errors and speeding up total control of the inventory, which helps turn a detailed analysis of the consumption and cost.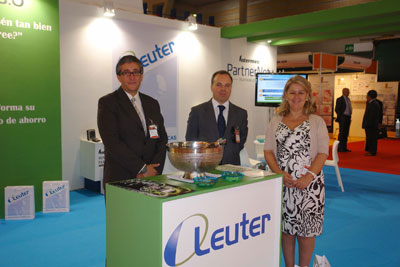 Leuter image during his participation in the latest edition of the SIL.
Also Leuter showed their solutions for the whole of the supply chain through its product during the SIL star adaia, implanted in more than 300 stores and used by approximately 7,500 operators management system. Aadaia is an advanced tool that has various applications through different modules, ranging from warehouse management, solutions for voice, control the flow of goods from the exit of the warehouse until the endpoint or logistics services, including billing and administrative tasks.