This news article was originally written in Spanish. It has been automatically translated for your convenience. Reasonable efforts have been made to provide an accurate translation, however, no automated translation is perfect nor is it intended to replace a human translator. The original article in Spanish can be viewed at
Canon y Océ desarrollan de manera conjunta dos nuevos sistemas de impresión
Canon and Océ jointly develop two new printing systems
September 19, 2011
Canon and Océ have launched two production printing systems jointly developed: the line Océ VarioPrint DP, a new family of printing in black and white based systems technology, and the model Canon ImageRunner Advance C9000S Pro, printer color for input in production level.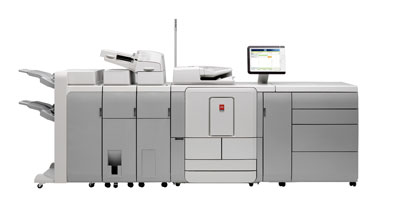 Océ VarioPrint DP.
The new Océ VarioPrint 95-105-120-135 models are powerful for low volume production printers and media, combining technology and the printer driver for Océ with integrated scanning and Canon finishing solutions. The DP line includes four models with speeds of 95, 105, 120 and 135 A4 images per minute. The basis of these devices is technology Océ DirectPress that do not use laser, either high temperature or electrical charges to create images, making them an alternative to the traditional technologies of the market in electrofotográfica in black and white printing.
Océ DirectPress technology replaces multiple processing steps used by traditional print technologies by one single digital process. The result is a uniform and stable printing without streaks or bands in the work. The new engine incorporates a wide range of scanning and finishing functions developed for the Canon ImagePress range. Gets a higher quality finish, because toner is not cracking when folds the paper because it uses a lower melting temperature.
Related Companies or Entities