Aserpyma Reinforces his relation with Tocantins (Brazil) and concrete fields of business for his companies
29 May 2012
The Managerial Board of the Association of Companies Restauradoras of the Landscape and of the Environingingment (
Aserpyma
) has kept a meeting with the governmental delegation of the Brazilian State of Tocantins, headed by the governor of the same, José Wilson Siqueira Fields, with the one who have concretised the distinct fields of business of interest for our companies. The planning and management of spaces protected, the maintenance and conservation of infrastructures, the prevention and fight against natural disasters and the reafforestryation are the fields in which the governor of Tocantins wants to have the experience of the companies that integrate the association.
Siqueira Fields stood out that "the credibility and the confidence are the base to generate common projects and the economic growth" and added that his State offers big opportunities of business and that they want to have the experience of leading companies of the sector of the catering of the landscape, the environingingment and the sustainable development. The governor of Tocantins and Aserpyma concretised his interest in different fields of performance like the planning and management of urban solid waste, management of natural resources, prevention and performance in front of natural disasters (floods) and forestry fires, reafforestryation, as well as the maintenance and conservation of roads and ways.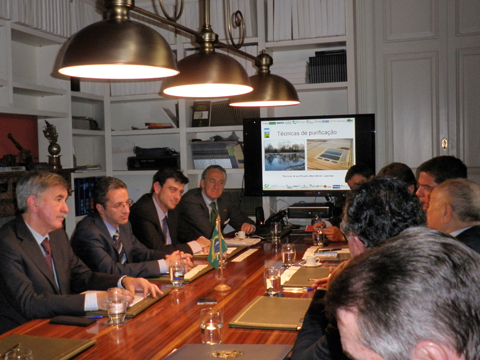 In this sense, Siqueira Fields signalled the intention of his government to put to disposal of our employers all those tools that facilitate the investments and the opportunities of business through parcerias with local companies (a species of UTE). Like this, during the meeting tackled also appearances like the availability of financials, tax incentives, the characteristics of the processes of bidding, the strategies of public financials-private, etc. In addition to this meeting, the companies of Aserpyma interested kept, in the afternoon of the past Friday, meetings with the Brazilian delegation to tackle of form individualizada subjects of interest.