Aimplas And IBV awarded with the prize Green Up Innovation by the project ECHO-rubber
7 March 2012
The Technological Institute of the plastic (Aimplas) and andl Institute of Biomecánica of Valencito (IBV) have been awarded by the project ECHO-rubber with the prize to the innovation of Green Up, 1ª Fair of the Paisajismo and Urbanismo celebrated in the frame of the fairs of the environingingment in Valency of 29 February to 2 March.
The project ECHO-rubber, realised beside the company vallisoletana Berlá and Recipneu-Tyre Recycling National Enterprise of Sines (Portugal), has consisted in the development of a bolardo of rubber recycled by means of an innovative and sustainable system. The main novelty is the utilisation of the rubber recycled like prime matter of high quality to produce products with a percentage of material recycled between 60% and 90%.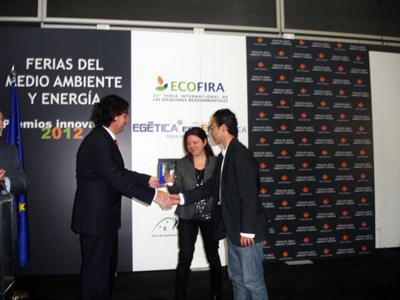 According to Anabel Crespo, main researcher of the project in Aimplas "This recognition motivates us to continue innovando in technologies and applications that allow us offer results to the companies that can contribute them value".
The productive process proposed by ECHO-rubber offers a solution to the problem of the Tyres Out of use (NFU) of which in Spain treat annually 314.000 tonnes, 10% more than the average of the EU. Besides, it is reproducible in a wide rank of transformative industries of rubber and in a big variety of applications and of other products of urban equipment like the protective bars of parkings or of systems of reduction of speed in road.
When evaluating the bolardo of rubber recycled by means of essays of impact, has determined the index HCI (Head Injury Criteria). This index evaluates the level of risk of injuries in the head, of such way that, an index of HCI above 1000 indicates that a sixth of the population can suffer injuries potentially mortal. The results obtained have allowed to verify that, in case of accident, the bolardo manufactured with the process of sinterizado, including 89% of material of rubber recycled, is four safer times (index of HCI equal to 305) that the one of steel (index of HCI of 1211). Besides, this bolardo of rubber recycled is more flexible, by what produces a lower friction in the vehicles and minimises his rayado.
The bolardo explains besides with a logo that allows to communicate to the final user that has been realised with material recycled, giving to know his environingingmental advantages.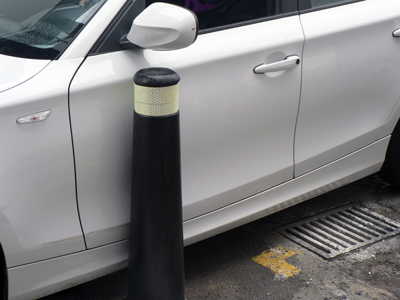 Related Companies or Entities
Instituto Tecnológico del Plástico