This news article was originally written in Spanish. It has been automatically translated for your convenience. Reasonable efforts have been made to provide an accurate translation, however, no automated translation is perfect nor is it intended to replace a human translator. The original article in Spanish can be viewed at
La maquinaria Toro ayudará a mantener parques y jardines de Palma de Mallorca
The Toro machinery will help keep parks and gardens of Palma de Mallorca
on March 17, 2011
During last days 2 and 3 March, responsible for trade of
Riversa
performed delivery of Bull machines to maintenance companies that are responsible for caring for parks and gardens of Palma de Mallorca. In particular two: Eulen, responsible for the area west of Palma de Mallorca, and to the UTE Mascaro-Roig, responsible for the maintenance of the area of the Levant.
Eulen has purchased 12 units of professional mowers Toro 530 GTK, as well as 4 units of turning radius mower zero Z450 Toro, to help with maintenance tasks. While the joint venture formed by Mascaró and Roig have acquired a unit of the Z450 to initiate the contractual.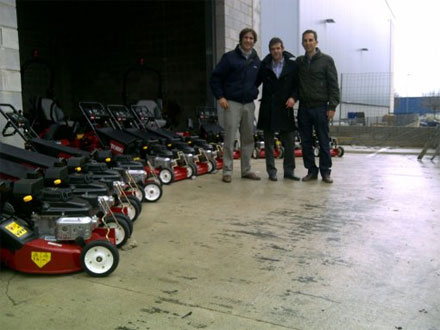 Delivery of machinery of Riversa Eulen company.
Both Eulen and the Mascaro-Roig UTE have planned their present and future on the basis of needs in what may be called the "4 emes" (M) the professional maintenance, which are summarized in a choice of machinery, increased performance with lower cost of operation and to be more respectful with the environment. Therefore, both companies have opted for a professional, highly productive and machinery consistent with a sustainable concept of maintenance work. The latter, in particular, makes clear to see that both machines have built-in technology Recycler in their shells, which returns the cuts to the Prairie converted into tiny particles of grass. This translates into stop picking from 6 to 160 tons of waste of grass, which will lead to a serious reduction in polluting emissions from trucks that carried the processing plants cuts.