This news article was originally written in Spanish. It has been automatically translated for your convenience. Reasonable efforts have been made to provide an accurate translation, however, no automated translation is perfect nor is it intended to replace a human translator. The original article in Spanish can be viewed at
Ambilamp colabora con La Hora del Planeta
Ambilamp collaborates with The Hour of the Planet
29 March 2012
By second consecutive year,
Ambilamp
, Association for the Recycling of Lamps, collaborates with The Hour of the Planet, that will celebrate next Saturday 31 March, of 20.30 to 21.30h. The SIG participates of this way in this environingingmental initiative organised by WWF that is considered like the greater movement of fight against the climatic change to world-wide level.
Like symbolic gesture for concienciar of the importance of the energetic saving, next Saturday during an hour will turn off the lighting of buildings so representative like the Tower Eiffel of Paris, the Opera of Sidney or Times Square of New York. In Spain already have confirmed his adhesion to the blackout the Aqueduct of Segovia, the Castle of Santa Bárbara (Alicante) or the Wall of Ávila, amongst other. In the edition of The Hour of the Planet of 2011, more than 5.000 cities of 135 countries ceased the lit of his respective monuments during sixty minutes.
The Hour of the Planet of this year appeals directly to the citizens to encourage them to participate by means of diverse challenges from the following question: "what would be able to do to save the planet?". So that all know of which time have to fulfil these challenges and so that it arrive The Hour of the Planet, Ambilamp has implemented in the home of his web a counter not to arrive late, neither by an alone second, to this action of environingingmental awareness.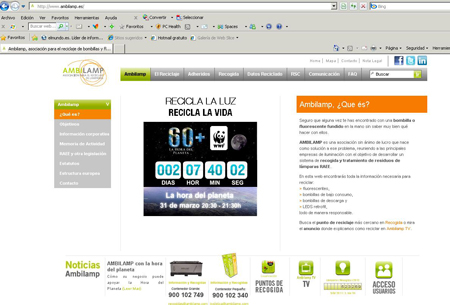 Contador in the web of Ambilamp.
Related Companies or Entities
Asociación para el Reciclaje de Iluminación (Fundación Ambilamp)