This news article was originally written in Spanish. It has been automatically translated for your convenience. Reasonable efforts have been made to provide an accurate translation, however, no automated translation is perfect nor is it intended to replace a human translator. The original article in Spanish can be viewed at
Kömmerling organiza una Subasta Solidaria en Veteco
Kömmerling Organises an Auction Solidaria in Veteco
4 May 2012
During the days of the fair dedicated to the window, Veteco (from 8 to 11 May),
Kömmerling
will auction the hinged Windows in his stand. You can bid on these doors and Windows, all members of the NGO architects without borders, all the architects and technical architects Collegiate and the members of the Club Kömmerling.
Throughout the week of the fair all of them may be your bid by one or several enclosures of the exposed there. In the stand of Kömmerling (Pavilion 4 • Stand 4B02) you will find a tab you will have to fill to make the / s bid/s and put it in a sealed URN that will be available at the stand.
The last day of the fair (May 11), Kömmerling officials, along with representatives of the NGO architects without borders will proceed to open all bids made during the week and to be awarded the corresponding Windows to higher bids. The total amount collected will be donated entirely to this NGO, proceeding then to the delivery of a cheque in their favor.
It is not the first time that Kömmerling held an auction of this kind, in fact because he has done it twice among employees in the years 2010 and 2011, donating profits to the same NGO.
As a remarkable note, it is worth mentioning that, for example, an enclosure that market can cost more than 3,000, will cost output in this charity auction of just 300, which will cause even more attractive if it is worth.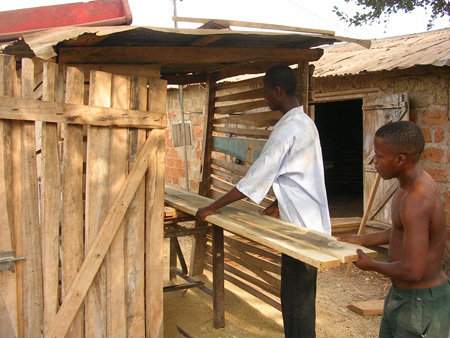 Project in Ivory Coast organised by the NGO Architects Without Borders.
Related Companies or Entities