This news article was originally written in Spanish. It has been automatically translated for your convenience. Reasonable efforts have been made to provide an accurate translation, however, no automated translation is perfect nor is it intended to replace a human translator. The original article in Spanish can be viewed at
Audiotec acondiciona la sala de barricas del nuevo edificio Belondrade
Audiotec Conditions the room of barricas of the new building Belondrade
3 May 2012
The singularity of the new building of Belondrade is one of the most striking characteristics of this prestigious cellar, inaugurated in the year 2000 inside the municipal term of The Dry (Valladolid); an extension designed by the architects vallisoletanos Eduardo Carazo and Víctor Ruiz (Odimasp), that follows the line of the original construction, work of the French Vicent Dufos du Rau. The plot The Celar is the enclave chosen for this new construction of 665 square metres, executed by Collosa and situated to few metres of the ancient building, whose stays house the room of barricas, the laboratory, the destined space to agricultural material and a room of catas suspended in the air with some splendid seen to the natural places of the place of The Dry.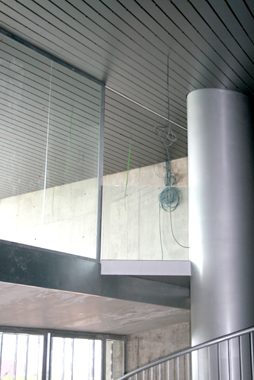 Acoustic conditioning in the room of barricas of the new building Belondrade.
It is precisely in the room of barricas where
Audiotec
, specialist in acoustic engineering, has realised a conditioning that conserves and strengthens the characteristics that do of the cellar an only and special space inside his typology. The works centre in the collaboration of the design and setting of a ceiling of lick wooden that respects the geometry of the edificación, since they keep the perpendicularidad regarding the wall of concrete, fact that involves the integration of lick trapezoidal in the zone curve of the room. The ceiling keeps parallel to the cover of the building at all times to conserve the geometry of the stay. Of course, you lick them wooden installed by Audiotec are free of any element that can prejudice the wine, since the main purpose of the new building is to achieve a "independent" bedroom for the wine bottled. You lick them, that are mounted on profiling metallic, are MDF Hydrofugous with finishings in grey melamine Leza and with an open board between each one of them of 20 mm.
The conditioning of the room of barricas adjusts perfectly to the philosophy of Belondrade, that finds a particular parallelism between the cultural concepts of music and wine: "for us, the elements with which explain to elaborate the wine are like the notes of a score of each musician interprets of a different form". The quoted stay explains already with an only acoustics for the reception of concerts classical music, as those that comes organising the cellar from does some years, some audible peculiarities of big beauty that will find his point álgido thanks to the future apilamiento and storage of the barricas.
Related Companies or Entities
Audiotec Ingeniería Acústica, S.A.