This news article was originally written in Spanish. It has been automatically translated for your convenience. Reasonable efforts have been made to provide an accurate translation, however, no automated translation is perfect nor is it intended to replace a human translator. The original article in Spanish can be viewed at
Las Torres Hércules: 126 metros de altura y 5.500 m2 de vidrio arquitectónico
Vitro Cristalglass wears the facade of the building in Andalusia
The towers Hercules: 126 metres in height and 5,500 square meters of architectural glass
Drafting Interempresas
23/03/2010
March 23, 2010
Inspired by the legendary pillars of Hercules, with an original combination of architecture and mythology, stands in Campo de Gibraltar
(Cádiz)
the tallest building in Andalusia: the towers of Hercules, designed by the prestigious architect Rafael de La-Hoz. The building, with 126 meters in height, is lined with 5,500 square meters of architectural virdrio of
Vitro cristalglass
.
With a height of 126 meters, the property seizes the title of building higher in Andalusia, in Spain, which until now was up to the Giralda. The towers of Hercules arise of an artificial lake formed by two layers of recycled water. It's two identical cylindrical towers, linked by a crystalline Prism with gateways that serve as communication between them. Both towers have a total floor area of 19,600 square meters.
At its highest point, the building houses a restaurante-mirador and above this is a panoramic terrace, where you can enjoy extraordinary views of the Strait of Gibraltar. This new Center is the most ambitious project developed in Andalusia and represents the Union of originality and innovation, with mythological aspects.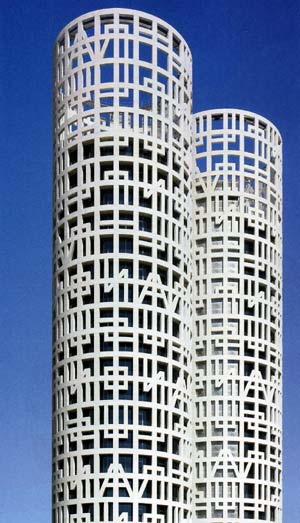 The facade is built with glass and white concrete with double glass with camera.
Façade of glass and concrete
The façade, with structural function, is made with white reinforced concrete and is glazed with double glass House that perfectly fits the basic requirements of energy saving, colorless appearance and solar control.
The supply of glass is carried out in its entirety for Vitro Cristalglass, who has collaborated providing the types of glass that most conform to the needs of this emblematic building of offices.
"We decided the combination in the form of double glazing Isolar Glas of glass for solar control Solarlux Natural 60/40, with a transparent appearance, reducing solar incidence in the interior of the building without reducing the brightness", says Alberto Gómez, Manager of emerging markets for Vitro Cristalglass.
Glass Solarlux influences ecological care because that reduces the flow of solar energy and light that have an impact on the building, reducing the energy consumption.
He adds that also joined laminated glass security, Multipact, which provides resistance to rupture or perforation and a good thermal insulation. For the gateways chosen glass was Solarlux neutral 62, with transparent appearance, he concludes.