This news article was originally written in Spanish. It has been automatically translated for your convenience. Reasonable efforts have been made to provide an accurate translation, however, no automated translation is perfect nor is it intended to replace a human translator. The original article in Spanish can be viewed at
Mantenimiento de las cadenas de caucho
How to get a maximum life time in rubber chains (J'Track) and rubber pads
Maintenance of rubber chains
Drafting Interempresas
21/06/2011
Although Global Track Warehouse (
GTW
) given all their attention to the design and manufacture of its rubber tracks (J'Track) and rubber pads. The company recommends a few basic steps to maximize your time of life.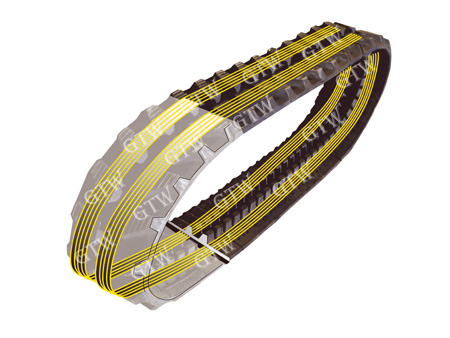 1. Avoid the premature wear caused by environingingments of work like rocky terrains, gravel, demoliciones of concrete/cement, rests of metal, etc.
2. The more careful is the operator to use equipment with chains of rubber or rubber pads, better performance and less wear.
3 Avoid exposure to pollutants such as oil or salt. If the rubber Caterpillar rubber /almohadilla has been contaminated, it should be cleaned immediately.
4. Prior to installing a new rubber chain, the components of shooting must be verified. They may need to be replaced.
5 Should try to keep always clean shooting components to prevent damage that could cause foreign bodies or mud.
6 Minimize exposure to the Sun, this helps reduce the aging process. The normal working temperature range is from - 25 to + 55 ° C. If necessary, reduce the speed in extreme temperatures.
7 Controlling the tension of the rubber chain on a regular basis.
8. In order to minimize unnecessary wear of rubber/rubber pads and components of filming chains always:
Switch turns on both sides
Up and down slopes instead cross them
Avoid turning on its axis or laps
Lead with two rubber chains to the same level of surface
Avoid hitting curbs or walls with the side of their chains of rubber pads
9 Before buying a ramp for loading a machine or acquire rubber pads existing ramp chains, we must ensure that its design allows a minimum damage to the chains of rubber/rubber pads:
Comprubar than its width (if applicable) allows clip rubber pads. Eliminates damage to its ramp and rubber pads.
The spreaders are the precise distance to avoid that they pellizquen rubber/pads rubber chains
If you need advice or assistance with regard to the maintenance of their chains of rubber/rubber pads, contact a professional for GTW.