This news article was originally written in Spanish. It has been automatically translated for your convenience. Reasonable efforts have been made to provide an accurate translation, however, no automated translation is perfect nor is it intended to replace a human translator. The original article in Spanish can be viewed at
Bell Equipment llevará a primer plano interesantes novedades en Intermat 2012
Bell Equipment will carry to first interesting plane novelties in Intermat 2012
9 February 2012
Recognised like technological referent in the design and manufacture of dúmperes articulated,
Bell Equipmen
t
plans to present in the fair an advance of his last truck, that promises to compete with the last novelties of the market, as well as it did it when the company launched the first 50 tonnes of the world, in the year 2004.
The general director of Bell Equipment Europe, Marc Schürmann, signalled in this regard: "Although we are keeping the details secretly, are safe that the market will not feel disappointed when we present our more recent project. We are very thrilled, since it will mark the culmination of a distinguished history of 35 years, in design and manufacture of dúmperes articulated".
"Bell Equipment has visited a long way from the manufacture of his first trucks Series-To, in 1985. We have worked untiringly to turn into us a strength in this industry, and in a point of reference in terms of quality and technology. Apart from our B50D, that keeps on being our fuselage insignia, have entered other revolutionary innovations, like the weighing on board, the start without key, the assistance in slopes, the prevention of volquete, the automatic brake (APA), the protection of twist of the turbo, as well as ours own tool of reports of production satelital, the Fleetm@tic", continued.
"Ours last advance establishes new standard respect to the environingingment, while we follow with our philosophy, of tested efficiency, to provide to the customers solve for a lower cost by tonne. It is important to stand out that we have not lost at all of the efficiency that has done that the truck Bell was a referent in the industry", it said Schürmann.
As I complement to the innovation, in the stand of Bell Equipment (5to G 140), the assistants will be able to see some of the technological advances more recent, including the fuselage insignia B50 and an engine Blu@dvantage, to show the system of selective catalytic reduction (SCR) of the trucks Stage 3b. Besides, will be able to see the range of oils, liquids and fats of Bell Equipment known like Lubricantes Bell.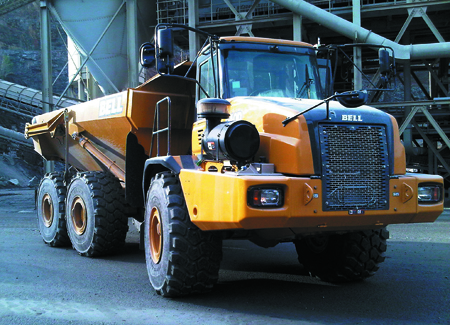 Dúmper Articulated Bell.
Related Companies or Entities
Bell Equipment Spain, S.A.