This news article was originally written in Spanish. It has been automatically translated for your convenience. Reasonable efforts have been made to provide an accurate translation, however, no automated translation is perfect nor is it intended to replace a human translator. The original article in Spanish can be viewed at
Una minicargadora se desenvuelve con soltura entre gigantes de la navegación
The carrier compact 501s of Wacker Neuson, specialist in the port of Kelheim (Germany)
A minicargadora manages with soltura between giants of the navigation
Editorial Interempresas
15/12/2011
15 December 2011
The company Osterhuber Agrar, specialised in logistics of warehouses, is employing from the past month of April a carrier compact 501s for the download of fuselages and works in warehouse. With his compact dimensions, this machine results very useful to the hour to work inside containers of ship and supports to the workers in the transfer of agricultural products.
Because of his power and to his compact dimensions, the 501s can be employed of way particularly versatile. Thanks to his innovative system of the arm provides excellent vision to in front and, in this way, guarantees maximum security. "Especially when we employ the 501s in the download of fuselages need a maximum of security. For example the device of elevation of a point is an absolute advantage because happen the load of a fuselage to the another of fast and easy way is extremely important for us", comments Gerhard Höfelschweiger, boss of warehouse of the company.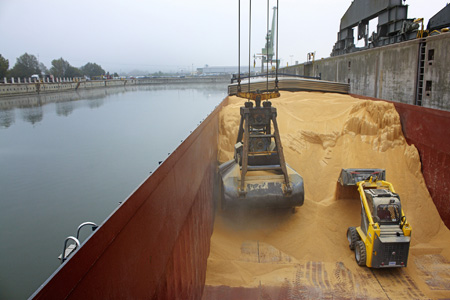 Carrier compact 501s of Wacker Neuson working in the port of Kelheim.
A standard characteristic of the carrier compact of Wacker Neuson is the accionamiento Quattrostatic free of maintenance. Each one of the four wheels is promoted by an individual module composed of a hydraulic engine and a unit of transmission. The result is a full transmission of the strength, also in rugged terrain, and a free height under the chassis until a 48 % elder. Other advantages of the Quattrostatic are the widespread life of the tyres and the reduction of the pieces of wear in comparison with the accionamiento of chain.
Simple maintenance
The tiltable cabin to backwards provides maximum confort in the service postventa. Also the wide capó of the engine guarantees a particularly good accessibility to all the points of maintenance.
Another remarkable characteristic in this machine resides in his intervals of lubricación of 500 hours of operation, which have to to the system of the arm of low maintenance thanks to the casquillos Composite. "What convinced us in addition to the excellent advice of the distributor in the stage of offer was the easy access for the maintenance", comments the manager Jürgen Zimmermann about his new carrier compact. "For us it was important that the machine did not have a system of horizontal refrigeration, which would cover permanently with enormous quantities of dust in the transfer of foods for animals. Wacker Neuson Could satisfy this exigencia, which, to end of accounts, was decisive for the purchase."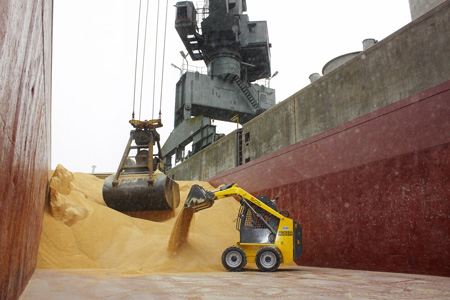 Thanks to his small dimensions, the carrier compact 501s of Wacker Neuson enjoys of a high manoeuvrability.