Aiju investigates the properties on the surfaces of game of children's parks
on January 24, 2011
Rubber pavements are environmentally sustainable products, since a high percentage of recycled rubber from tires no longer in use is used in its manufacture. Such material is suitable for floor tiles in playgrounds because their mitigating properties of impact in the event of a fall from an equipment of game, such as swings, seesaws, slides, etc.; as a surface accessible and easy to maintain. It's pavements and applications relatively new where it is necessary to improve the control over them. In fact, adequate control of their property increases the quality, safety and durability, improving the competitiveness of the product on the market.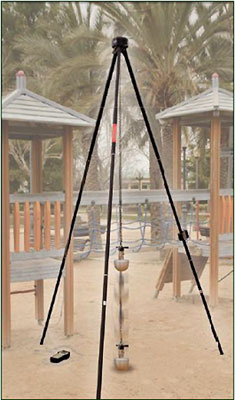 The ability of buffer (HIC) test device.
Therefore, Aiju - Institute of technology of the toy, is developing a project of r & d granted and funded by Institute of small and medium industry of the Generalitat Valenciana (Impiva) and co-funded by ERDF funds, whose title is ' playgrounds: correlation between physical and chemical parameters and the ability to buffer surfaces. Requirements for business guide - Safesurface', in order to investigate and learn about current offers of the rubber pavements located and installed mostly in the playgrounds of our municipalities and analyze the potential impact or factors (positive or negative) associated with the use and the geographical location of these products.
The analysis of these data will enable, on the one hand, assess the adequacy of the market for these products and, on the other hand, a set of recommendations for manufacturers of synthetic flooring, offering solutions to manufacturers to develop coatings with increased capabilities of impact dampinggreater durability and lower cost of manufacture, giving it a greater guarantee of safety.
Related Companies or Entities
Instituto Tecnológico del Juguete