This news article was originally written in Spanish. It has been automatically translated for your convenience. Reasonable efforts have been made to provide an accurate translation, however, no automated translation is perfect nor is it intended to replace a human translator. The original article in Spanish can be viewed at
Sangrá presenta su nuevo catálogo de sanitarios específico para colegios
The 'programme Sangrá of baths for schools' comprises washbasins, toilets and other accessories
Sangrá presents its new catalogue of health specific to schools
Drafting Interempresas
22/05/2008
May 22, 2008
There are vital parts to ensure a level zero accidents, infections and remojones in the bathrooms of the schools. In the first case, for example, fittings with thermostatic valves to prevent burns from boiling water are vital. Sangrá has had this in mind, and much more, to integrate the design of children's baths, which marks as one of its specialities a before and an after.
The health
Sangrá
for spaces inhabited by children are pieces of quick cleaning and highly secure. An example is the fitting Contour 21, whose fluid forms are suitable for children's hands and have a thermostatic valve to regulate and control the temperature of the water automatically, can be timed or electronic. But, in addition, the brand offers plumbing vents which do not create aerosol in the atmosphere; water inlet spotlights that guarantee maximum hygiene to obtain drinking water; sanitary porcelain with a design without corner where can accumulate dirt; toilets without opening the taps and drain with grid, to avoid the risk of infections; collective toilets with a covering of porcelain that also serves as slide, can be installed in the space of Union between two pieces, with which they are not of dirt.
Saving energy and water, with innovative solutions
Saving water is present in the range of fittings Sangrá belonging to his 'programme of baths for schools'. Its offer presents possibilities such as 'Click Technology', a temperature limiter integrated into the Mixer taps cartridge. Prevents the loss consequent on the search for the ideal temperature. For its part, the thermostatic taps regulates and automatically controls the temperature and achieved savings in water usage, not being necessary to mix it. With the electronic fitting hands don't come into contact with the tap. This is more hygienic and, also, more economically, as it is only in operation while it is used.
The column of taps suitable for fitting only timed is necessary to pressure tap once to shoot the flow of water, which stops then automatically, thereby saving.
A complete catalogue for multiple needs
The 'programme Sangrá of baths for schools' and other facilities used by children includes the following products:
• Ulysse: individual toilets (four variants, consisting in two different sizes and with or without hole for fitting), semipedestal, support and drain with chromed grille.
• Boom: collective washbasin, covered portajabón mounted in series, game of squads, drainage with chromed grille.
• Thoiry: collective washbasin, covered portajabón mounted in series, game of squads, drainage with chromed grille.
• Circular: circular basin, two options of pedestal, equipped with 6 outputs and 1 tap taps column, column of taps suitable for timed taps (not included).
• Children's toilets: two different measures and with or without seat.
Nice, clean and anti-stress
The school can also be a stressful place for children and is not uncommon that some are reluctant to use the bathroom of the school with the same tranquility and frequency which used the House. To avoid the problem of regularity that this situation entails, Sangrá has designed its 'swimming program for schools' looking for a visible hygiene, ergonomic and pleasant ways for the child and the creation of a relaxing atmosphere.
Products of Sangrá porcelain for bathrooms in schools include toilets individual, collective and newsletters, which provide great savings in space, functionality and excellent design, as well as toilets. The needs of children are provided with a design that has been considered flexibility of height in the installation of sinks, settled with a semipedestal or through media; same flexibility in the installation of toilets, with two heights to choose from, 305 and 245 mm for children; effect antisalpicaduras in the toilets with the frontal skirt of ceramics; toilets in two versions: with a seat (in ABS or wood) and no seat, designed to avoid risks of infection and small occasional accidents caused by a fortuitous drop in the lid.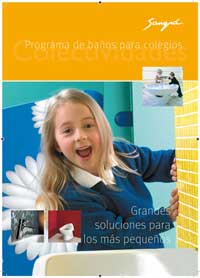 Cover of the new catalogue of specific Sangrá for schools.
Space solutions
Sangrá has also thought about the needs of distribution of space in the centers, with intelligent solutions such as collective toilets that can be installed on drums and circular basins, whose surface area is exploited to the maximum to facilitate its simultaneous use by several children.
The latter can be equipped with column of taps with suppliers (6 outputs), both with a normal or timed taps column. Sangrá also offers flexibility in the height of the installation, with pedestals 80 and 50 cm, to choice.