Baskets and small formats, focus of attention in the stand of Fedemco in Fruit Logistical
28 February 2012
The offer and quality of the containers Grow and his impressesion of marks with flexography, went back to attract a year more, the attention of producers and envasadores hortofrutícolas, that assisted to the fair Fruit Logistical 2012 of Berlin, international event of the sector hortofrutícola with a total of 2.537 display units of 84 countries and 56.000 visitors. In the stand of Fedemco (Spanish Federation of the wooden Container and his Components) the available formats to the consumer were the most alluring, especially containers 20x20 centimetres of a kilo, 30x20 centimetre of 2,5 kilos and the baskets that provide a singular presentation of the product.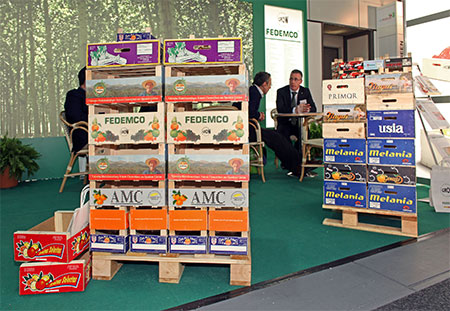 The stand of Fedemco in Fruit Logistical, celebrated fair in February in the German capital.
In the stand of Fedemco, 82% of the visits proceeded of the European continent, especially Italian visitors, Dutch and Spaniards. Also it stood out the increasing interest by the wood of the east countries of Europe and Turkey. The entity took advantage of the fair to present his new system of certification of best practices, Fedemco-GMP, as well as to distribute his new catalogue of products.
Related Companies or Entities
Federación Española del Envase de Madera y sus Componentes