Adolfo Martínez S.A. has Yara for some days on hygiene and new products
24 February 2012
Adolfo Martínez S.A. has wanted once again offer the opportunity to his customers to share knowledges with one of his more ancient partners,
Yara
. In this occasion the day turned around three elements: the hygiene, the concept of Yara Crop Nutrition and the most sued product by the agriculturalists, YaraMila Actyva.
Yara Carries years developing a politics of risk 0 in his distinct headquarters, however considers that it is not sufficient with ensuring the hygiene of his workers but, like part of his corporate responsibility, has to do all the possible so that the message arrive to the greater number of possible people. For this reason the first exhibition treated of concienciar to the assistants of the dangers associated to products treated inadecuadamente and of what can suceder if they do not fulfil the protocols.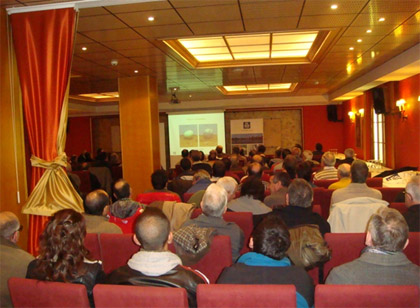 The second talk explained like Yara is not another manufacturer of fertilizantes more, but it works in three areas to offer him to the agriculturalist a solution to his needs: the catalogue of products, the knowledge of the crops and the tools of precision. The most interesting part for the assistants was the one of tools, since they knew advances like Tankmix (
www.tankmix.com
) where can check the compatibility of the range YaraVita with thousands of phytosanitary ware by commercial mark or active ingredient. Also they knew the last technological advances like the N Tester or the N Sensor.
Finally did a review exhaustive to the form of manufacture of YaraMila Active. It does not be necessary to forget that Yara is the only manufacturer that offers products with polisfosfatos. It did special upsetting in signalling the differences between a blend, a compound and a complex, in all the necessary technology to arrive to manufacture this last and in as the process of cooled of out to inside does that YaraMila Actyva was hygroscopic. In fact during the talk realised an experiment to check the solubility of different products and the result left to all the invited surprised, YaraMila Actyva dissolved completely. All the world was invited to repeat the experience in his house to check by them same the characteristics of each one.