This news article was originally written in Spanish. It has been automatically translated for your convenience. Reasonable efforts have been made to provide an accurate translation, however, no automated translation is perfect nor is it intended to replace a human translator. The original article in Spanish can be viewed at
Rotoválvulas para sólidos en polvo o granulares
Range Wam Spain 2004
Rotoválvulas For solids in dust or granular
Wam Spain 2004
20/04/2012
20 April 2012
Inside the range of the feeders, finds the series RV, whose use more common is the download and dosage of a wide range of solids in dust or granular. Often they install in silos, hoppers, cyclones and in extractores of dust. On the other hand, these components are used to use when the transport of the product is by means of the impulsión of air. Said applications are universally known.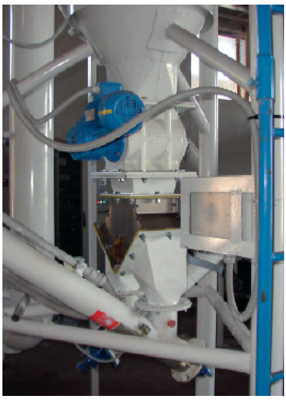 Classical setting of the RV.
The rotoválvulas Torex distinguish by his compact design and a robust construction. The series RV divides in four basic models: RV2, RV5, RV10 and RV20. In them, the numbers indicate the step of litres by revolution of the rotor and his discharges, that arrive to 28 m3/h with a degree of filled of 80%. The steps of entrance and exit oscillate between the model 150 and 300 millimetres.
In some occasions, by the bad use or unsuitable applications, produce immobilisations of the rotor by part of the product. To avoid this phenomenon, the rotoválvulas Torex have together fluidificadas that, by means of the supply of air (interval advised 0,2-0,4 bar), realises a preventive cleaning, deleting of this forms zones of cumulus of material and possible risks for the team.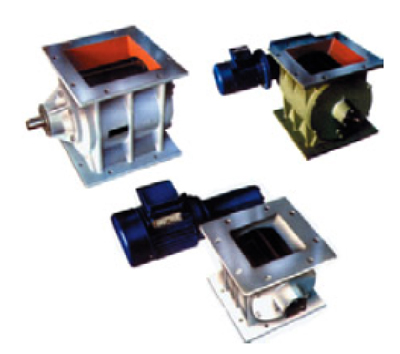 Series RV Torex.
In relation to the durability of the rotoválvula, exerts a very important paper know the DNA of the product to treat, since in function of his properties and behaviour, will determine the material of the body, as well as the palettes, the presses estopas and the inclusion of bibs or scrapers to avoid the learning of layers of product in the internal walls of the team.
In relation to the control of the rotoválvula can realise through a signpost of control totally centralised or through a variator of frequency installed in the alveolar that allows the control of twist. In the series RVC, unlike the series RV, is the predisposition in the inferior part with tight boards to avoid escapes of air to his time the user realises a canalisation that conexiona with the pipes of the pneumatics installation.
Also in this case are four basic models, that correspond to the different discharges to choose (RVS/C10, RVS/C15, RVS/C35 and RVS/C20). The performance depends of the half where install and of the speed of corresponding rotation.
The main profits that contribute the rotoválvulas Torex summary in:
Robust frame manufactured in smelting.
Minimum maintenance because of the Stamps of the labyrinth in the axis.
Wide range of molduras for the secondary and abrasive means.
Resistant to the hits of pressesure to 10 bar.
Applications of -25 to +200 °C.
The certification ATEX for the zone 22.
Compatible mouths with sinfines WAM.
The standards of consistent quality because of the to scale industrial production.