This news article was originally written in Spanish. It has been automatically translated for your convenience. Reasonable efforts have been made to provide an accurate translation, however, no automated translation is perfect nor is it intended to replace a human translator. The original article in Spanish can be viewed at
Imade desarrolla Móstoles Tecnológico
Imade develops technological Móstoles
With an only area of 323.728 m2.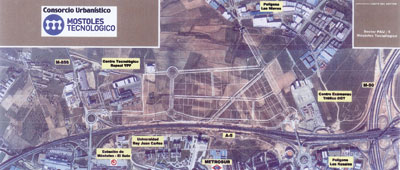 Through the Imade, and the Ayuntamiento de Móstoles, in collaboration with the Universidad Rey Juan Carlos, developed by the Ministry of economy and technology innovation in the community of Madrid, Móstoles technological park will allow the introduction of 80 to 100 companies in plots of 2,500 m
2
at least.
With a total area of 670.536 m2, the only surface is 323.7282m.
Its design, with high-quality infrastructure will provide functional and environmental quality standards, in accordance with the requirements of the companies. It will also include shared buildings, covering a wide range of business activities characterized by productive innovation.
It is estimated that Móstoles technological will create about 3,000 jobs, mostly of high qualification, professionals trained at the Universidad Rey Juan Carlos, on whose campus the Park is composed.
Located at the Northeast end of the term city of Móstoles, 18 km from Madrid along the A-5 (Madrid-Extremadura), M-40 and M-50, Metrosur and commuter train, it is adjacent to the Centre for research and technological development of Repsol.
As for uses, is designed for business and technological activities of industrial production and service industries. Especially for high-tech and industrial and productive enterprises with tertiary component.
The first is currently developing phase, with a direct of EUR 36,2 million investment.
Related Companies or Entities
Imade - Consejería de Economía e Innovación Tecnológica