New platform intermodal in Amurrio for the company siderúrgica of Bilbao and vicinities
19 April 2012
Amurrio Intermodal Is a new logistical centre promoted by Big Europe, situated south of the place alavesa, in the Industrial Area and of Services of Aldayturriaga. The installation contributes to resolve big part of the problems with which find the operators that manipulate products siderúrgicos in the Valley of the Nervión and in the surroundings of Bilbao.
Treats of a warehouse distributor of big proportions strategically situated and connected. From Amurrio Intermodal can distribute commodities in function of the needs of the customers. It finds in some industrial surroundings with important tractor trucks companies of the sector siderurgy and metallurgy.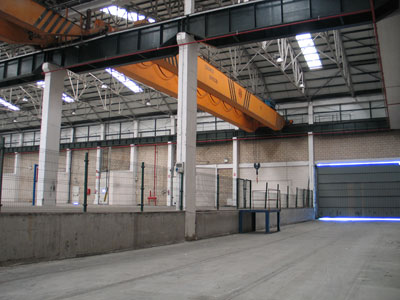 The foundries and steelworks require the transport of big quantities of raw materials for his transformed siderúrgicos and also of his products finished and intervals of big weight and dimensions. The companies devoted to the transport of product siderometalúrgico can find in Amurrio Intermodal installations of high functional value thanks to the incorporation bridges crane until 30 tonnes, ramal rail and access filmed to the ship.
From this logistical centre has easy access to the plateau, and with this to national destinations, and also to other international destinations through the Port of Bilbao that is to only 48 kilometres of distance. It treats of a ship of 14.000 square metres (4 modules), with 600 square metres of offices with direct connection to warehouse, 8 bridges crane from 5 until 30 tonnes, with extension of 8.400 metres squared ship in 12.000 of plot and apartadero rail with access to the interior of the ship.
The logistical centre, with clear vocation of service to the industry, is opened to operators and to companies interested in the rail transport and in the intermodalidad, for a management of his economic logistics and medioambientalmente sustainable.