This news article was originally written in Spanish. It has been automatically translated for your convenience. Reasonable efforts have been made to provide an accurate translation, however, no automated translation is perfect nor is it intended to replace a human translator. The original article in Spanish can be viewed at
Ana Pastor reafirma su compromiso con el Corredor Mediterráneo
Ana Pastor reaffirms his commitment with the Mediterranean Runner
6 June 2012
The minister of Promotion, Ana Pastor, has ratified his commitment with the Mediterranean Runner during his visit to the International Living room of the Logistics and of the Manutención, organised by the Consortium Frank Zone, where also has assisted to the VIII Prizes SIL. Like this, it has announced that it is elaborating a constructive project with width of international road and that the commitment of the Government is that the Mediterranean Runner was in the budgets of 2013.
Pastor has insisted in that they are many the current needs but that the important is to know prioritise. In this sense, the minister has affirmed that the modernisation and the economic integration in the Mediterranean only can do reality with a system of transports in which it prevail the intermodalidad and that allow the social cohesion, the territorial balance between the autonomous communities and the connection between the countries of the area.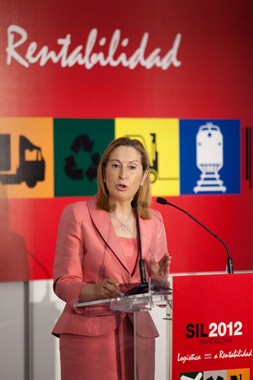 The minister of Promotion, Ana Pastor, during his visit to the SIL.
Of this way, has indicated that it will prioritise in a first phase of the Mediterranean Runner the implantation of the international width (wide UIC) "so that the trains do not have to detain in what they no longer are borders".
Ana Pastor has taken advantage of his intervention to remember that the logistical is one of the main motors of development and a key element for the competitiveness. Like this, it has affirmed that Barcelona constitutes a fundamental logistical node, so much on a national scale like international and that good part of this success resides in the wide system of communications that it has, so much aerial, maritime, rail and terrestrial. By all this, go to carry important performances in the Port of Barcelona and his rail accesses.
The minister of Promotion has indicated that it is an important challenge that exist an efficient system of rail commodities that connect the main ports and Spanish airports, since it only represents 4% of the total in front of the rest of countries of the European Union, that arrives even to 22% in the case of Germany.
Related Companies or Entities