This news article was originally written in Spanish. It has been automatically translated for your convenience. Reasonable efforts have been made to provide an accurate translation, however, no automated translation is perfect nor is it intended to replace a human translator. The original article in Spanish can be viewed at
José Blanco firma el protocolo para la integración ferroviaria en Ourense
José Blanco signed the Protocol for the railway integration in Ourense
on April 15, 2011
The Minister of public works, José Blanco, the Mayor of Ourense, Francisco Rodriguez, the President of Adif, Antonio González, and the President of Renfe, Teófilo Serrano, signed the Protocol of collaboration for the railway integration in the municipality. The subject of the Protocol is to establish the general framework, the guidelines and methodology that should regulate reciprocal relations between the Ministry of building, Adif and Renfe and the Ourense City Council for the integration of urban railway in the city and the adaptation of facilities for the incorporation of Ourense to the high-speed network.
The design of these actions will be compatible with the railway access to the line Ourense-Santiago. The solution adopted, presented in February by the Secretary of State for planning and infrastructure, opts for the corridor that freeing the land between Seixalvo and station, improving permeability and ending with the current break the rail infrastructure caused in the territory as wellThere is a layout variant with parameters of high-speed railway that will serve the traffic of passengers and goods, which will run through independent channels, which will enhance the use of the existing route for goods.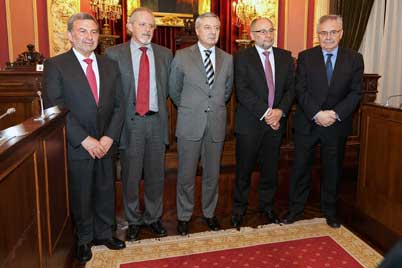 The white Minister together with other authorities who have signed the Protocol of collaboration.
The selected alternative also includes three ranges of liaison with the line Ourense-Monforte-Lugo, two corresponding to the dual path of international bandwidth and a third for the single track of wide existing bérico. The Iberian wide path shall also maintain access to the stabling of the enterprise city and Taboadela station.
The feasibility study included also a proposal for rationalization of activities and spaces which would largely slimming the space occupied at present, so that we can use leftover space on both sides of the future beach of tracks to integrate the station in the city in an effective manner.