This news article was originally written in Spanish. It has been automatically translated for your convenience. Reasonable efforts have been made to provide an accurate translation, however, no automated translation is perfect nor is it intended to replace a human translator. The original article in Spanish can be viewed at
Fal Calzados de Seguridad lanza un nuevo catálogo y una nueva colección
Security Calzados FAL launches a new catalog and a new collection
November 10, 2010
FAL, security footwear
has launched its new catalogue which is a total renovation of the above, both in design and content. It is its catalogue more broad and renewed, with a very complete contents, with detailed information about each model and their properties. Each model includes, next to your picture, your name and reference, sizing, European legislation compliant, as well as the international symbols that explain the type of protection offered by each of the models. The catalogue also offers information and sections useful, making it the most practical catalogue of consultation carried out so far.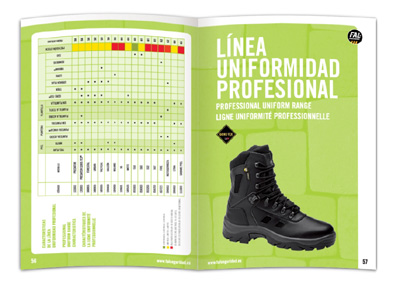 These developments of content include:
a table in the introduction of each line where you can see clearly and at a glance models included therein, the basic features of each model (skin type, suela… type), the elements of protection that incorporated (Cap)(, plantilla…), as well as the availability of stock of each model in particular and the page of the catalog that is. An element that becomes a fully functional work tool this catalogue.
a drop-down tab with the symbol table international, very practical to consult at the time, without having to scroll through the catalog, each model with the definition of properties that meets.
a specific chapter of soles are specified where the floors used in the entire collection together with their characteristics (composition, level of sliding, joining the Court, etc.)
a paragraph of material, which explains in detail the different materials that are used to make models of Fal, such as the Vincap CAP, the template textile antiperforación, the system of comprehensive adjustment Boa, the lining and FALGore-Tex, which among other things, give the products of the firm in case of security in the market.
a chapter with the certifications that owns the company, where detailed and shows how the models of Fal are made within the standards of quality ISO 9001, ISO 14001 and OSHSAS 18000
The design of the catalog shows through different colors, pictures, and textures each of the lines of the collection and use, so that his identification with the branch the sector to which it is intended to be even more visual. Thus, there are product lines well differentiated, in which the features and benefits of the shoe come to be radically different.
Related Companies or Entities
Fal Calzados de Seguridad, S.A.