This news article was originally written in Spanish. It has been automatically translated for your convenience. Reasonable efforts have been made to provide an accurate translation, however, no automated translation is perfect nor is it intended to replace a human translator. The original article in Spanish can be viewed at
Construcciones Mecánicas Lizuan, en la BIEMH 2010
Buildings mechanics Lizuan at BIEMH 2010
April 19, 2010
Buildings mechanics Lizuan, S.A.,
specialized in the processes of design, development, manufacture and marketing of presses and brochadoras hydraulic - most special machines made to measure-participates in the twenty-sixth edition of the BIEMH 2010 where will present the range of machines that sells and services it offers to the sector. The Gipuzkoan company has developed during recent years, various projects of tooling, dies, automations and feeders, allowing them to provide fully equipped. Within the range of products also offers the centradora-refrentadora, a type of machine that Lizuan has been making since its inception and that keeps in its line of production "to meet a market demand that is hardly manufacturers", as points out the company.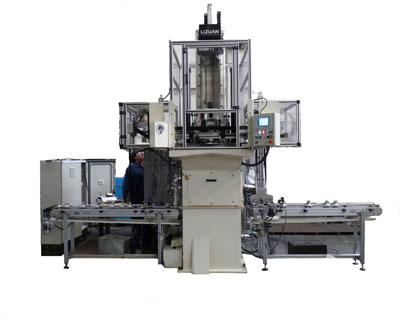 Visitors to the fair will both know its range of machines dedicated to boot as directed to the deformation. According to point out from the company, "while in boot, the characteristics of the work, brochado both focused and reaming, lies in carrying out specific work, deformation occurs almost the opposite, i.e. applications can be infinite and the most diverse sectors". The sectors to which the company is directed are mainly casting, automotive, printing, wind energy, household appliances and washing/drying for industrial laundries tunnels.