This news article was originally written in Spanish. It has been automatically translated for your convenience. Reasonable efforts have been made to provide an accurate translation, however, no automated translation is perfect nor is it intended to replace a human translator. The original article in Spanish can be viewed at
Entrevista al Departamento técnico de Safework
"The growth in demand for security arrangements has been soaring years"
Interview with the Technical Department of Safework
Since 1989
Safework
is exclusively dedicated to the solution of problems related to security in the machines, working with customers and partners, manufacturers, users and designers of machines in the areas of: consulting, engineering, devices. According to the Technical Department of the company, its product more advantageous for the machine tool sector is the integral service of adequacy of the safety of machines.
What are the main risks to which a worker in a workshop of machining is exposed?
Logically the dangers of projections, crushing and atrapamientos are the most specific of the workshops of machining, as well as chemicals, noise, and ergonomics that are already more common to other types of workshops.
Soundproofed reserves of cutting line.
Has increased the demand for such products during the last years? and what kind of products are the most in demand?
Although the last months - of crisis-the demand is dramatically reduced, the truth is that the growth in demand for security arrangements has been soaring years.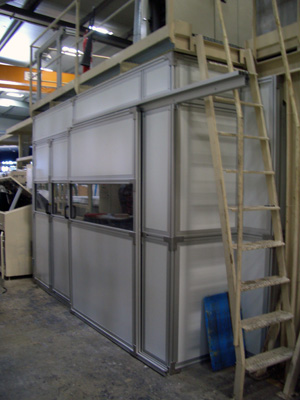 Security system of agitators.
What type of product marketed you targeting safety in machines for a workshop or steel company? What benefits does provide?
For this sector our most advantageous product is the comprehensive service of adequacy of the safety of machines. For the fulfillment of safety of work RD1215/97 teams, we offer a plan of action that includes:
Carrying out a report of adequacy that describes in detail security solutions to be applied to each machine taking into account the specific of each use by the client.
Adequacy report includes a non-binding offer of work to do, allowing the customer to plan their actions and decide freely carrying out the work with the suppliers you prefer, including Safework or not.
Once made the changes, after a subsequent inspection, Safework offers the issuance of a statement of compliance of the safety of each machine.
Related Companies or Entities
Safework Soluciones Integrales de Seguridad, S.L.