This news article was originally written in Spanish. It has been automatically translated for your convenience. Reasonable efforts have been made to provide an accurate translation, however, no automated translation is perfect nor is it intended to replace a human translator. The original article in Spanish can be viewed at
Addom desarrolla un sistema pionero para la gestión de recogida de residuos
Addom Develops a pioneering system for the management of collected of waste
on June 2, 2011
The company of Sabadell (Barcelona)
Addom equipment
has been developed for the company specializing in the design, manufacture and marketing of systems for the collection of urban waste format green, an intelligent system that allows to know the percentage of filling of trash bins, allowing to configure different variables such as location, process of filling, amounts and types of waste. In this way, the use of trucks and resources is optimized.
The project aims to improve the efficiency of the services of collection of waste in urban areas through a combination of a sensor system, the transmission of information through wireless technology and an online application that allows to compile the information in real-time, manage and optimize both services, as the route and frequency of garbage trucks to be taken.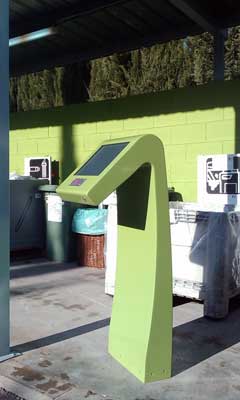 The Barcelona municipality of Sant Quirze del Vallès has pioneered the introduction of new technologies in the management of their waste.
The system provides information at a distance for maintenance and can even get to detect bad habits of the citizens. "This technology, applied to an entire city, will allow reducing costs in the collection of waste, as well as to improve the service substantially, because it may address any incidence in record time," they claim from the company.
Containers include to use a reader's personal identification cards, allowing the controlled opening of a rear release mainly used by shops. This system provides greater security to the service, because what will only access the user with this identification, thus minimizing the risk of accidents. In this way are registered habits of use and it allows to know the level of recycling made by users.
The system is being introduced in Catalan and national market following its introduction in the capital of the United Arab Emirates, Abu Dhabi, where will manage approximately 400 containers compactors and its collection. In fact, different municipalities have shown interest after it was revealed that Sant Quirze del Vallès (Barcelona) has been a pioneer in the introduction of new technologies for the efficient management of urban waste, with the installation of the system of management for the intelligent and underground container for collection of domestic oil designed and manufactured by Addom and clean points.