This news article was originally written in Spanish. It has been automatically translated for your convenience. Reasonable efforts have been made to provide an accurate translation, however, no automated translation is perfect nor is it intended to replace a human translator. The original article in Spanish can be viewed at
Battenfeld-Cincinnati, en el Congreso Internacional de WPC
Battenfeld-Cincinnati, in the International Congress of WPC
20 October 2011
By eighth time battenfeld-cincinnati, situated in Bad Oeynhausen and Vienna, will take part in the International Congress of WPC, that this year will take place of the 8 to 10 November in Vienna. The main sponsor of this event presents with reason of the day in his Technological Centre/Center, two innovative applications in WPC, that answer to the exigencias current of the sector to reduce prices. It treats of a line of coextrusión of high performance and of the system of complete house "simply housing".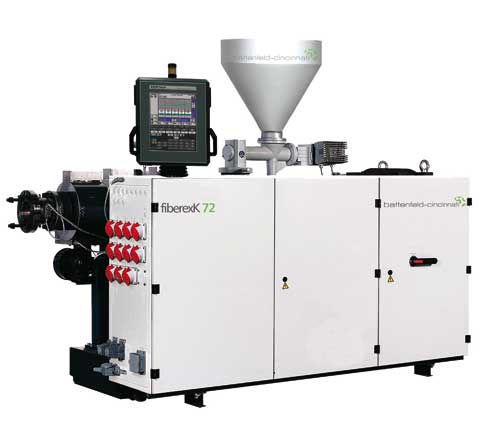 The main subject in the field of the WPC is nowadays the reduction of the costs of manufacture, especially of the costs of material that, with roughly two thirds of the total costs of manufacture, constitute the main cost of the total of the product.
By this reason the manufacturers look for solutions like the use of materials recycled, utilisation/utilization of dosificadores more precise, extension of the window of processed and exhaustive control and assessment of alternatives for the minimisation/minimization of the indexes of rejections.