Nudec recibie The Prize to the internationalisation/internationalization 2011 Official Camera of Trade and Industry of Sabadell
27 October 2011
As it affirms the business organisation/organization sabadellense, "this public recognition wants to be especially significant this year, because of the current coyuntura economic and the adverse conditions in which it develops the business activity. Values like the sacrifice, the initiative, the work and the proof are those that, in this context, have more importance that never".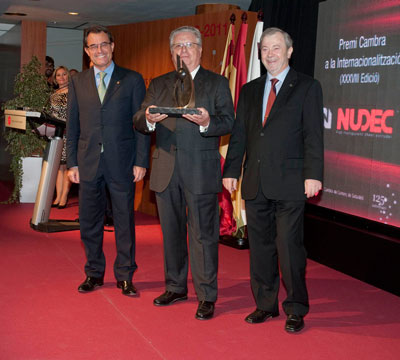 To the act of delivery of the prize, in which also it celebrated the 125 anniversary of the Cambra of Comerç of Sabadell, assisted the president of the Generalitat of Catalonia, Artur But. In reference to the tradition and work of the cameras of trade, But underlined "the social and economic function that exert in all Catalonia". On the prizes, the boss of the Catalan Executive stood out the "individual value that have for the companies and people awarded, since they are the example that if we follow this course, the things that seem more difficult can be to our scope and there are possibilities to develop important projects".
From his apparition in 1980, fruit of the experience consolidated of Arrahona and later of Nudesa, Nudec has strengthened his position in the market, year after year, thanks to the effort of his employees and collaborators. The quality and the service that offers have turned it into one of the main producers of plates of plastic to European level. Like company with clear exporting vocation, Nudec sells the greater part of his production, 80% in 2011, to more than 40 countries. The investment during a lot of years in people and work have done that his presence out of Spain went each more important day.