This news article was originally written in Spanish. It has been automatically translated for your convenience. Reasonable efforts have been made to provide an accurate translation, however, no automated translation is perfect nor is it intended to replace a human translator. The original article in Spanish can be viewed at
Rapid muestra una completa gama de trituradores en la K 2010
Rapid: Hall 9, booth E19
Rapid shows a complete range of crushers in the K 2010
Drafting Interempresas
14/09/2010
September 14, 2010
The largest series of Rapid 600 mill has been completed. It is a team available in three widths (900, 1,200-1,500 mm) which, thanks to its wide modular rotor and the design of the Chamber of the Court, get 45 standard basic configurations that can be extended to any great application of crushed. Rapid is represented in Spain by
Guzmán polymers
.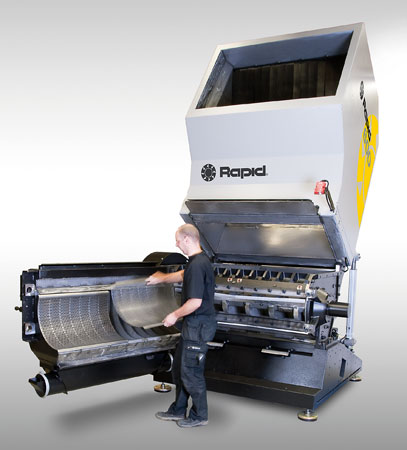 Easy access of the 600 series mill.
As explains Bengt Rimark, director of marketing at the Rapid group, the 600 series uses the same patented to the employee and proven technology successfully in other series, released to the market in 2004. The concept is completely modular and can be adjusted to any application in the processing and recycling industry. During the K 2010 will be the first time that the company will demonstrate full heart open range.
The 600 series also includes the patented base MCT (Mineral Composite Technology), which allows absorption of vibrations on a basis of weight. This makes the 600 series "a unity of recycling really powerful and resilient" which also reduces the noise level during operation.
Ergonomics and productivity
Open heart has an ergonomic design. For this reason, during a change of production, it allows the operator a full access to the rotor and the Chamber of court in the heart of the machine in just three steps and without the help of any tools. This allows one quickly confirm the cleaning of the interior, eliminating the risk of contamination after changes in color or material. The same shortcut also benefits the work of peacekeeping. "In both cases the strikes of the machine are reduced significantly and improves productivity," says Rimark.
"When think that, in addition to the investment initial, cleaning and maintenance account of the life cycle of a mill costs," adding, "any time savings that can be done safely improves the level of production of the processor." "The 600 series makes possible savings".
The 600 series is designed for a high volume of grinding parts injected, sopladas or use and remains, and can reach capacities of up to 2,500 kg/h. The series, with a rotor of 600 millimeters in diameter, is available in widths of 900, 1200 and, even, 1,500 mm. In addition, to provide even greater flexibility, machines can be equipped with the Chamber of Court of Rapid Super Tangencial, which allows the grinding of parts greater than the diameter of the rotor.