"The plastic provides an energy savings of 50% to the society"
Interview with Ulrich Reifenhauser, President of the Council of exhibitors at the K fair in Dusseldorf
Ulrich Reifenhauser is a character that is closest to what his institutional position (President of the Council of exhibitors of the K fair) or professional Office (President of the prestigious firm that bears his name) may reflect. Before a lunch presentation for journalists who claim served to remind the proximity of the K fair in Düsseldorf (from October 27 to November 3), he gave an interview, we serve them below. Hopefully that it is to your liking.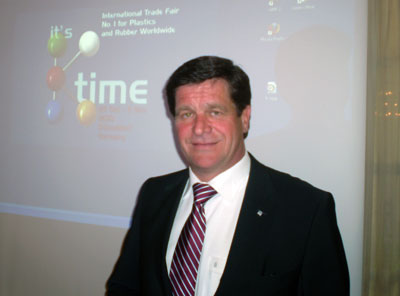 How are the preparations for the start of the K fair?
The truth is that we are happy because the hiring of exhibition stands has been very good this year as we have filled completely our space, getting the same size as in the 2007 Edition. The previous edition was a success because we had a boom in the market of plastic and now, although we have spent two years with a sharp decline, we are again experiencing an upturn, which leads to greater eagerness to present all the news that have been prepared at this time.
And what are the innovations that we find in K?
More and better machines, more efficient and sustainable with the environment, ready to prosecute biomaterials. We will also find new technologies and materials such as nanotechnology applied to plastics, which is a totally new field, as well as the combination of materials (composites), which have experienced a great evolution. Is there a revolution? No, there is no revolution, but it is a great development of the technologies that we already know.
How is the situation on the market of the machinery of the plastics in Germany and in Europe?
In 2009 we had the worst year that we could imagine, was a brutal fall. Years ago, until 2007, we had a boom in the market of plastic but suffered a dramatic decline of between 40 and 60% in 2008. The first thing we did German entrepreneurs was to cut expenditure, then we decided that we had too many workers, but rather than ignore all they decided to stay with the best and some of them, send them home half of the time. Thus the worker does not lose his job and may charge at the same time unemployment allowance for the time that is not working. So save us also do without good workers who bring much to the company. On the other hand, this has caused that the market does not fall into a deep depression and that we already experience a slight upturn. Although we are afraid of a new decline, economic in the form of sierra graphics, German and European entrepreneurs believe that it's been a good business policy.
"Bioplastics have two drawbacks: first, they are 30% more expensive than the facts from oil and, more importantly, the lobby of the oil has a strong"
It seems effective...
Of course. In addition, we have used this time to improve our r & d, so when the crisis is over, we will have something interesting to show to our customers.
And how this development has been financed in times of crisis?
Very simple. 90% Of European companies in the market of plastic are familiar. Managers are also owners and understand that if the company needs money not you can ask it to banks, because send them home. They are entrepreneurs that largely have gained a lot of money and that, in case you need it, they have invested in their own enterprises. Thanks to this support the entrepreneurship to their own companies, there have been very few bankruptcies in the European market of plastic. Even companies that ended strong before the crisis, can continue to be strong to get out of it.
How to beat Germany the State of pessimism that is still Spain, in economic terms?
Obviously we had our period of depression, this has been the worst crisis in 50 years and that affected our business community. But fortunately, with the measures I mentioned earlier, we have been able to leave before this process of economic depression, possibly because our country has a very strong industrial structure that depends less on the external market to Spain. Possibly for this reason his country will take a little longer to recover from the crisis than Germany.
By what I said earlier, the economic crisis has not affected overly fair K, as exhibitors.
No, fortunately K 2010 has coincided with the rise of the German economy. We have been able to skip the slump of the crisis that has occurred between the previous edition and this year. Having organized last year, I am sure that the numbers would have been much worse.
Changing the subject, what role will the sustainability at the K fair play?
(After doubt a few seconds to respond) There has been a major debate on sustainability and the plastic. For a long time it has seen the plastic as a poison for the environment, but I think that it is already exceeded. There are alternative technologies, such as the of bioplastics, but are more expensive than the facts from oil and account for only 0.3% of the market. But they have another problem which is necessary to mention and that they are produced from food such as potato, i.e. food, leaving doubts as to whether it would not be more appropriate devote these products to feed the third worldrather than devote them to manufacture plastics.
Of course...
In addition, this technology should make two nuances. First, it is 30% more expensive than the made from oil and, more importantly, oil lobby has great strength and is not willing to allow that other markets eat the ground. As a result, the consumer reflects and concludes that it is not willing to pay 30% more for a product that is not yet as good as from oil. Although oil is finite and that may change over time.
Is the price the only factor?
No, it isn't, we must also appreciate that plastic provides a great energy saving society. If we cambiásemos all plastic products by others of wood, glass or other materials, we would need 50% more energy to survive. There are many examples of practical applications of plastic: LED lights cannot be made without plastic, aircraft, cars, mobile phones, all carry pieces of plastic that with other materials would be hardly usable.
Talking about the practical application of plastics are enough used in sectors such as construction?
Although they could be used more, the plastic is very used in the construction, most tubes are made of plastic, insulating materials also and, in general, many of the products for Windows and doors and Windows are also plastic. The building is the second sector where most used plastic, vehicles and electronics, but still below the packaging of products.
Why is reason PlasticsEurope slogan "The material of the 21st century"?
The plastic market will continue to grow for a long time and the materials are still much room for evolution. Think that the technology of the plastic was created recently as 50 years ago, so their potential is very large, compared to other materials that are used for more than a Millennium. This is the reason that led us to choose this slogan because, when he started and developed in the 20th century, the plastic has a long way yet we are going to go in the 21st century.
"The technology of the plastic was created recently as 50 years ago, so their potential is very large, compared to other materials used for centuries"
As an expert in the extrusion new thinks that we will see in the fair K in this field?
Faster machines, more slender, best products... As I said before, no there will be a revolution in the sector, but at the trade fair K will find developments of products that will enhance greatly the performance of the companies to work for that once required more time. New developments include nanotechnology and engineering plastics.
In the world of South Africa past two plastic products have highlighted above the rest and both receive criticism: the Jabulani ball and famous vuvuzelas. Fault of plastics?
(Laughs) Yes, well, what can I say? I think the Jabulani is a ball very fast and it would have perhaps been good that players had been able to practice with him some time before the world so that players would not have so many problems to control it. Regarding the Vuvuzela, I think that they are a great product made of plastic and that it fulfils its role, which is precisely to make noise.
Finally,? send a final message to the sector
I think that anyone in the field of not only plastic is fortunate but that can be proud to belong to him, because it is part of a market that is booming, that has a great future and is, without doubt, one of the major tier. Areas such as Asia, India or the Arab countries have a high demand for plastics and this makes the future of the sector is more than insured.