This news article was originally written in Spanish. It has been automatically translated for your convenience. Reasonable efforts have been made to provide an accurate translation, however, no automated translation is perfect nor is it intended to replace a human translator. The original article in Spanish can be viewed at
Siepla se abre mercado en Portugal
The company has supplied a blower of preforms for PET Minerva1.6 to the Petrovagos company
Siepla open market in Portugal
September 3, 2009
Versatile and able to manufacture large and small containers. So is the blower of preforms for PET Minerva1.6,
Engineering Siepla
Barcelona company just sell the Portuguese Petrovagos, a transforming company of plastics in the area of Aveiro.
The blower of preforms for PET Minerva1.6 acquired by Petrovagos in Siepla is characterized by ease of handling and simplicity. It is automatic from the burden of preform them until the departure of the containers, which translates into savings in staff costs. It is designed with international components, such as Siemens plc, pneumatic SMC and skates THK linear. In addition to the blower, Siepla can be supplied complete air line for the production, i.e. compressor for high pressure (up to 40 bar), air dryer, particulate filters and deposit of air with CE certification. The Assembly of their machines is made in China, under the strict supervision of the team of Siepla. In addition, the company offers 'turnkey' projects including own technical service and supervision from purchase to implementation underway in their machinery.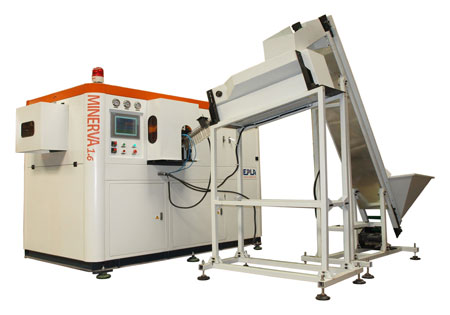 Blower of preforms for PET Minerva1.6, engineering Siepla.
"The packaging of PET, a plastic that can be applied to an infinite number of products, still has much route in Spain"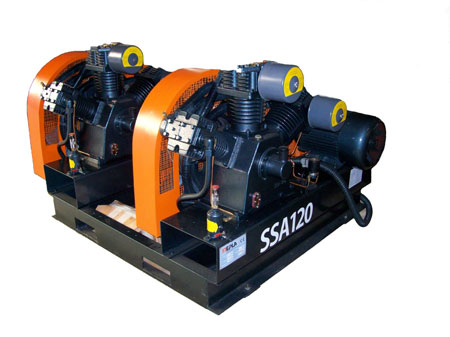 Compressor for high pressure, one of the components of the air line that provides the company.
A market on the rise
This, according to the company, is the first sale of Siepla to the neighbouring country since the company was founded in 2005 by Juan Puig, a veteran of the machinery for plastics in Spain. Siepla, which sells extrusion, blow molding machines, blow-moulding of PET, injection, mills and peripherals, sees a significant increase in interest in the blowing of PET preform. "The packaging of PET still has long route in Spain". The PET is a plastic that can be applied to an infinite number of products and which attends to the needs of a good design, facilitating the sale of the product through an innovative packaging. "What is light and 100% recyclable", he says Puig.
"Furthermore, Luís Póvoa, director of the Petrovagos services, States that the choice of Siepla has been"determining"the fact that the machine could go from small packages to large simply by changing the mold in less than an hour and the good value for money". The goal is to explore with this machine a market that demands more diversification of molds, but with a rate lower than the large production machines. Siepla, moreover, provided with the necessary moulds for this new strategy.
Related Companies or Entities