This news article was originally written in Spanish. It has been automatically translated for your convenience. Reasonable efforts have been made to provide an accurate translation, however, no automated translation is perfect nor is it intended to replace a human translator. The original article in Spanish can be viewed at
Las exportaciones de las empresas de amec aumentan un 12,4% en 2011
The exports of the companies of amec increase 12,4% in 2011
3 April 2012
amec has presented this morning the conclusions of the Report 'Coyuntura 2011 and Perspectives 2012', that the association elaborates annually. According to the Report, the total export of the companies of amec has increased 12,4% with regard to the previous year, representing a volume of export of 3.100 million euros. Some figures of growth that are supported by with regard to the year 2010, in which the increase of the exports was of 13,11% and the volume of export of 2.800 million euros. With this, ascertains that 2011 has been a year of continuity in the senda of the growth with regard to 2010, in which it confirms the recovery of the exports after the fall in 2009 (-14,5%).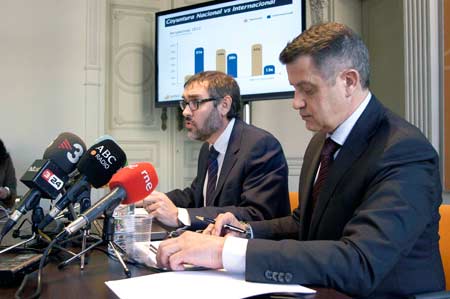 Of left to right: Joan Tristany, general director of amec, and Llucià Casellas, president of amec.
In front of the stagnation of the National Demand (-1,8%), the External Sector (+2,5%) keeps on being fundamental for the growth of the GDP (0,7%).
In this sense, the Coyuntura National in 2011 was less favourable that in 2010 for 56% of the companies of amec. Regarding the perspectives for 2012, until 89% of the same considers that it will not improve.
This data contrasts with the perception of the companies in front of the Coyuntura International since 49% considers that in 2011 was more favourable that in 2010. 51% of the companies foresees a better coyuntura international of face to 2012.
The factors of coyuntura that more companies have indicated to have them conditioned negatively in 2011 correspond , mainly, with factors of financial nature: financial situation of the customers (59%), price of the raw materials (48%) and financial costs (39%), in addition to the weakness of the Internal Demand. In the opposite sense, 72% of the companies have signalled the External Demand like the main factor in affecting them positively in 2011.
Regarding the results of 2011, 67% of the companies of amec closed the exercise with profits. 12% obtained an equal result to zero and 21% of the companies closed with losses. With regard to the results of the report of the previous year, Llucià Casellas, president of amec, has aimed that "the number of companies that have closed with profits has diminished slightly (72% in 2010) and the companies that have declared losses have increased (17% in 2010)".
These results keep for 2012 regarding the companies that expect to close with a better result (51%) or equal (37%), "by what exists some optimism", according to Casellas.
Related Companies or Entities
Asociación Multisectorial de Empresas