This news article was originally written in Spanish. It has been automatically translated for your convenience. Reasonable efforts have been made to provide an accurate translation, however, no automated translation is perfect nor is it intended to replace a human translator. The original article in Spanish can be viewed at
Embalaje sostenible de cartón ondulado para carne de aves
Aviafco, new container of renewable origin, 100% recyclable and quickly biodegradable
Sustainable packaging of cardboard ondulado for meat of birds
Editorial Interempresas
28/02/2012
28 February 2012
Aviafco Is the container of cardboard ondulado for the transport of meat of bird guaranteeed by the Spanish Association of Manufacturers of Containers and Packagings of Cardboard Ondulado (Afco). The boxes are manufactured entirely in cardboard ondulado and bear perfectly the manual manipulation of casting, weighing, labelled and repaletizado.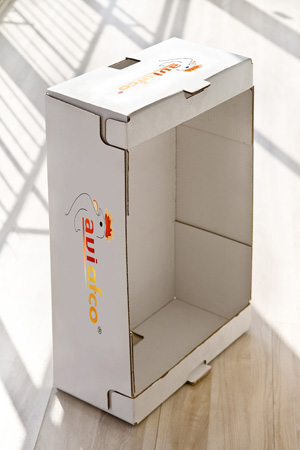 Aviafco Guarantees the hygiene and the alimentary hygiene.
The ecological approach has arrived to the containers and packagings to remain and the cardboard ondulado is very very positioned in this new stage. The new Law of Waste goes in this steering, updating the legal frame. Like this, the new containers Aviafco allow to reduce until 40% the days of truck in the logistical circuit, diminishing like this the expenses of transport, fuel and tolls and contributing to mitigate the climatic change. Through the stamp Aviafco, the manufacturer guarantees that the box fulfils with all the requirements of quality defined by Afco.
The cardboard ondulado is a material of renewable origin, 100% recyclable and quickly biodegradable. When being of an alone use, the box guarantees the hygiene and the alimentary hygiene. Besides it can go impresa, making possible the perfect identification and trazabilidad of the product and favouring the image of mark.
The boxes are done of paper, a natural product that proceeds of forestry crops managed of sustainable way. These plantations are sumideros of C02 and, therefore, brake the climatic change. The industry papelera uses clean productive processes, efficient and responsible and the cycle of life of the box closes with the recovery and the recycling. Around 90% of the fibre that goes in in each circuit of production proceeds of this work of recycling. By all this, fulfils with the requests of the Spanish and European rule, in addition to satisfying the demand of some increasingly demanding consumers with the sustainability.
Related Companies or Entities
Asociación Española de Fabricantes de Envases y Embalajes de Cartón Ondulado