This news article was originally written in Spanish. It has been automatically translated for your convenience. Reasonable efforts have been made to provide an accurate translation, however, no automated translation is perfect nor is it intended to replace a human translator. The original article in Spanish can be viewed at
Etiquetas transparentes y etiquetas-librito en productos gourmet
IPE explains in his paper in Easyfairs Packaging Innovations the virtues of their latest creations for the labelling
Transparent labels and etiquetas-librito in gourmet products
Drafting Interempresas
21/07/2010
July 21, 2010
IPE innovations for Etiquetajes, s.l., expert company in the printing of self-adhesive labels and sleeves, participated as a speaker in the LearnShops seminars, organized within the framework of the celebration of the fair Packaging Innovations 2010 in Barcelona. The company spoke of the benefits package with transparent labels and incorporated etiquetas-librito order to provide more information.
The 'Transparent labels and Booklets' presentation at gourmet products was carried out by Francesc Egea, Deputy to the management of the company, which explained the high visual impact achieved with transparent labels No Label Look to enhance and show the physical characteristics of the product. Also highlighted the many opportunities of design that have these labels which, print them with different printing techniques are achieved outstanding effects, ranging in line to the image that should be projected a higher quality product.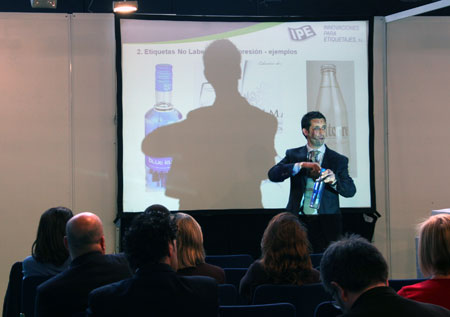 Francesc Egea, Deputy to the management of the company, during his speech.
More information for consumers
It aroused great interest among the attendees to the presentation of labels using book Booklet, in upmarket products, to be used as a support to give more information about the product, such as details of the origin, the preparation or ingredients. This type of label can occur in different shapes and sizes, adapting to the needs of the packaging in the gourmet products design.