This news article was originally written in Spanish. It has been automatically translated for your convenience. Reasonable efforts have been made to provide an accurate translation, however, no automated translation is perfect nor is it intended to replace a human translator. The original article in Spanish can be viewed at
Maderas Zallo dará sus primeros pasos en el embalaje industrial
Woods Zallo will give their first steps in industrial packaging
May 3, 2010
Woods Zallo, logging and sawmill located in the Santa Lucia district of Amorebieta, has taken a step forward to give greater value to their wood and already manufactures industrial to custom packaging.
The company, which was founded more than 30 years in the hands of Pedro Juan Zallo, is located in Amorebieta. The 40,000 square meters of land available, 1,500 are dedicated to the production, and 1,200 are for storage of finished product. Its activity brings together from own logging until the development of the finished product. I zallo has latest generation technical means, which must be added the antiazulado immersion baths and drying Chambers. The MITRE optimizadora S90 Dimter, newly acquired Maesma, is a key part in the scheme for the future of the Basque sawmill.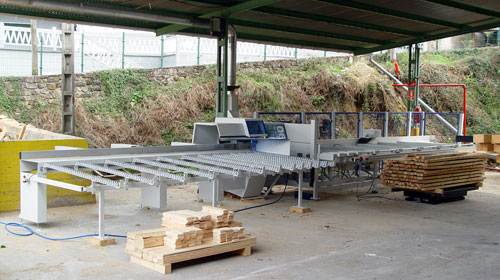 The facilities of timbers Zallo in Amorebieta.