This news article was originally written in Spanish. It has been automatically translated for your convenience. Reasonable efforts have been made to provide an accurate translation, however, no automated translation is perfect nor is it intended to replace a human translator. The original article in Spanish can be viewed at
Iniciativas para ponerles un Marco de Oro
Graphispag 2011 Awards
Initiatives to give you a golden frame
Drafting Interempresas
18/04/2011
Or what is the same, 12 graphic products considered the best made in Spain between 2009 and 2010, in the view of
fira de Barcelona
and the
Graphispack Association
. They are recognizing the innovative effort and the bet by the quality of the graphic companies using the techniques of digital printing, screen printing and pad printing - here not there were - in their projects, as well as the formative work of graphic arts schools.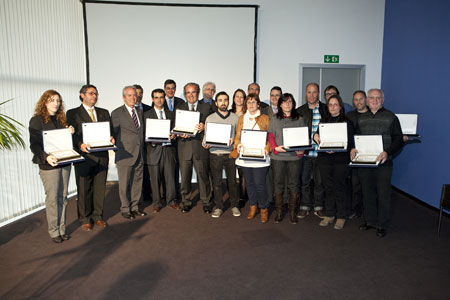 The seventh edition of the framework Gold Awards handed out 12 awards and a special mention. Photo: Fira de Barcelona.
Among the winners, a structure with printed canvases in digital by Sanca company that reproduced a giant shopping basket to promote a supermarket and the artistic silkscreen of a student of L'escola d'Art Llotja de Barcelona obtainedIn addition, the distinction 'Best of the competition'.
In the seventh edition of the contest was digital printing in large format, and silk-screen printing remained as a system for printing artistic products and high quality with surprising finishes.
12 Awarded
Large format:
-Sanca General Service communication: canvas which, as a basket, forró the building of the supermarket mountain biking in Leoia (Biscay).
-Sanca General Service communication: outdoor advertising for Metro Bilbao.
-Sundisa: campaign of outdoor advertising in the European Championships in athletics in Barcelona 2010
-Sundisa: vinyl, metraquilatos and inflatables 'Aral, the lost sea' exposure.
-BB graphic documents: decoration of the Windows of several common rooms of the residence of students from Esade in Sant Cugat.
-BB graphic documents: vinyl for pavements that Mactac congratulated Christmas in a square.
Small format:
-Relief Egara (terrace): tag Psalms of towers for wine.
-Grumbe Packaging: Kit for a bottle of cava Juvé i printed Camps on PVC.
-Silkscreen seven seas: t-shirt 'Caserío zabalaga-chillida leku', in black with game of contrasts.
-BB graphic documents: informative Totem of the heritage of Cardona, which combines screen printing and airbrushing on steel to achieve effect of aged brass.
-Alfonso Blasco Montforte, of the Escola d'art Llotja (Barcelona): artistic silkscreen 'of the genre in general'.
-Eulogio Rosales: stained glass art 'Tango', which has 16 individual stampings with glaze baked separately at high temperature to vitrificar them.
* Special mention
Students of the Institute Emilio Campuzano Bilbao: printed calendar in offset and digital printing with a finish of silk screen printing.
Related Companies or Entities
Graphispag - Fira Barcelona